Deposition O
18 June 1890
James F. Bradford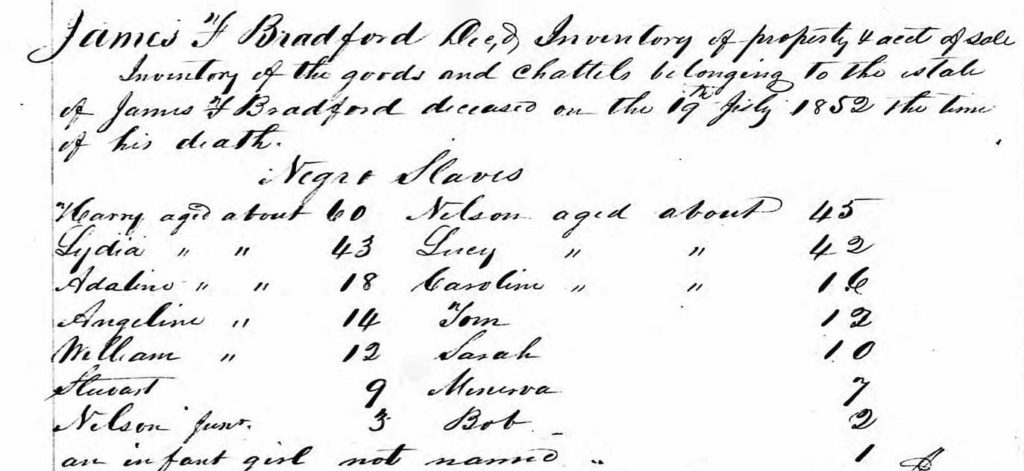 | | |
| --- | --- |
| Henry aged about 60 | Nelson aged about 45 |
| Lydia " " 43 | Lucy " " 42 |
| Adalineb " " 18 | Caroline " " 16 |
| Angeline " " 14 | Tom " " 12 |
| William. " " 12 | Sarah. " " 10 |
| Stewart. " " 9 | Minerva " " 7 |
| Nelson jr. " " | Bob. " " 2 |
| An infant girl not named age about 1 | |
I am 51 years of age, a farmer and my post office address is Athens, Tenn.
I never knew the claimant that I now recall. I never knew Philip Cleage. I owned a servant named Nelson McCaury and his wife and family. They went by the name of Bradford until after the war and then they took the name of McCaury. Lucy McCaury was the wife of Nelson and she now lives in Chattanooga. She is a very truthful, strictly truthful and strictly honest, I would take her word as quick as I would anybody, black or white, she was strictly reliable all her life.
Nelson was morally a good negro and a religious negro but if ever he preached any I don't know it. I never knew that he performed the marriage ceremony for any one. He died sometime during the latter part of the war. He must have died somewhere from 1862 or 3, probably later than that, but it was certainly during the war. I was away from home when he died. I was away from home all the time from 1863 in 1864 and until the surrender in April 1865 and he died during that time.
I have no interest in this claim. My answers have been correctly recorded.
James F. Bradford
18 June 1890
************
James F. Bradford is the former and final slave holder of the Bradford/McCauly family. Above is a list of the enslaved owned by his father, (also named James F. Bradford) at his death. Apparently they then passed on to the son.
I found the information for this post in Katie Cleage's Civil War Pension file and on ancestry.com
For links to the other posts in this series, click this link – Katie Cleage's Pension Hearing