Claimant's statement
Katie Cleage
6 June 1890
I will be 42 years of age this coming July, I am a washer and ironer and my post office address is No. 519 Cedar Street, Chattanooga Tennessee.
I married Philip Cleage after the war commenced and before he went into the army. I really don't know how long before he went in the army it was that we were married, but we had two children before he enlisted My mistress Jemima Cleage whipped me for going with Philip. I was her seamstress and Philip was the coachman. No, my mistress did not whip me after I was married to him. I think she knew I was married to Philip because master scolded and knocked around about it and said I should not marry an outsider, that there was plenty of home boys and I should marry one of them.
After I was married to Philip, I slept out in a cabin near the house with Philip. She, my mistress, took care of us when I was sick. I slept in the house before I was married to Philip. My mistress furnished us with a bed. I had the two children there before he went in the army. My old mistress is living but master is dead. I have talked with her about my marriage to Philip, but she was sick the day I saw her and she is quite old and she said she could not remember.
Old Mr. Alexander Cleage and Jemima had four children, but they were small and going to school when I lived on the place with Philip. Sam is dead, I don't know whether John remembers or not, but Will and Kate were too small and they do not remember.
Yes, I know my mother. She is not living. Yes sir, I know Philips mother. My mother's name was Huldah Hurst. Philips mother was named Julia Ann Cleage. John Cleage lives here in Chattanooga, Tennessee. My husband had brothers Charles and Lewis and a sister Patsy Cleage. Lewis is dead, has been dead twelve years. Charles and Patsy lives at Athens, Tennessee. David Cleage was my old masters brother, he is dead. I saw my husband o??? and lived with him as his wife while he was in the service.
After he died I hired out to work for Gen. Grosvenor and worked for him nearly two years. He is now in congress. Then I went with Col. Sheridan to August Ga. And remained about five months, then came back to Chattanooga, Tenn. I worked at the Crutchfield House, Chattanooga Tenn., since burned down. I worked for Mrs. ______Bishop, she went to Knoxville. I stayed with her about one month. I worked in a Steam Laundry five or six months, then in a restaurant one year. The man I worked for in the laundry is gone. I don't know where. The man I worked for in the restaurant is dead. I have worked in a tailor shop and millinery shop and at many other places, only a short time in each place. I worked for a Mrs. Williams three years.
I have been working at washing and ironing for myself for five or six years. I have lived where I worked and did not have any home of my own. Since I have been working for myself I have a house of my own. I live all alone. I have a niece with me and a half grown young man for the last three or four months. I have not had but two children since Philips died. They are both living. Yes sir they live with me. The boy is seven years old and my girl is five years old. Their father is living. He is married now, he was not married then. Yes sir, the same man is the father of both children. I did not live with him at all. I have never lived with any man as my husband since Philip died.
Addie Sherman was one of the house girls in the Cleage family when I was married to Philip. The last I knew of her she was at Athens, Tenn. There were no other house servants. There was a Thomas Cleage who was always with Philip, but I do not know whether he is living at Athens or not, I have not known anything about him since the war.
Mrs. _______Colburn, living on 6th Street between Poplar and Cedar has known us ever since the war. I was living where I now live when I had my children. I did not have any doctor. I was by myself. I did not have a midwife. Edmonia Charlton living on East End Ave, foot of Harrison St. has known me for fifteen years. I have always worked alone by myself and I have not had any appointees. I want to be present and I want my Atty. Mr. Thomas Giffe, to be present when the testimony is taken in my case. I have fully understood all your questions and my answers have been correctly recorded.
Katie (her mark X) Cleage
June 6, 1890
***********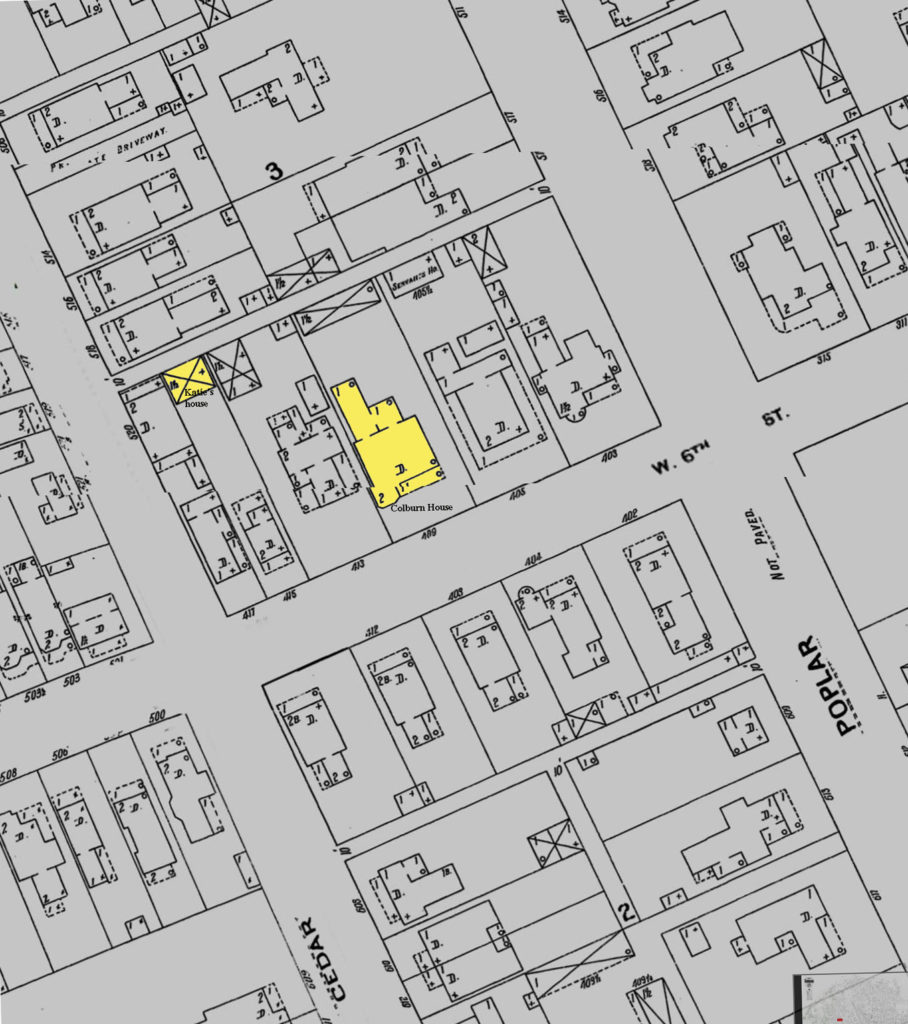 Katie lived in the one and a half story house off of Cedar. A one and a half story house has a full lower story and a second half story that that is between the ceiling of the lower story and the roof, which makes it smaller than the downstairs because of the sloping roof. Katie mentioned 5 people living in her house in this statement – her two children, a niece and a youth. I wish she had given names!
The Webster J. Colburn (click his name for more information about the Colburns.) and his wife and family lived at the large two story house at 409 6th street. He was an insurance company president. His wife is mentioned in the above testimony and I decided to look for them when Katie gave an address I knew was right around the corner.
**********
For this post I used Katie Cleage's pension file. I have found Forgotten Chattanooga to be full of information, photographs and a map of the whole city of Chattanooga in 1901, 1889 and more. The other links above will take you to sites I used. I also used Ancestry.com and FamilySearch.org for background information on Katie and the other people in these posts.

For links to the other posts in this series, click this link – Katie Cleage's Pension Hearing