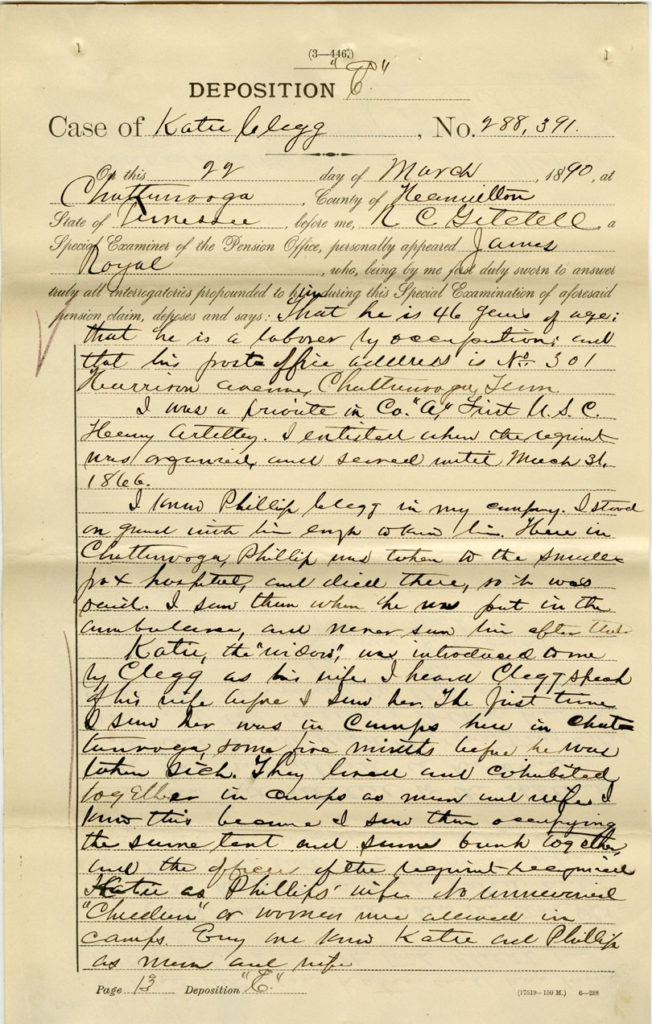 Deposition E
James Royal
22 March 1890
That he is 46 years of age; that he is a laborer by occupation; and that his post office address is No. 301 Harrison Avenue, Chattanooga, Tennessee.
I was a private in Co. "A," first U.S.C. Heavy Artillery. I enlisted when the regiment was organized and served until March 31, 1866.
I knew Philip Cleage in my company. I stood on guard with him enough to know him. There in Chattanooga, Philip was taken to the smallpox hospital, and died there, so it was said. I saw them when he was put in the ambulance, and never seen him after that.
Katie, the "widow," was introduced to me by Cleage as his wife. I heard Cleage speak of his wife before I saw her. The first time I saw her was in Camps here in Chattanooga, some five months before he was taken sick. They lived and cohabited together in camps as man and wife. I know this because I saw them occupying the same tent and same bunk together, and the officer of the regiment recognized Katie as Philips' wife. No unmarried "children" or women were allowed in camps. Everyone knew Katie and Philip as man and wife.
I have not seen Katie and have known nothing of her since they took Philip from the camp.
Katie was present when they took Philip to the hospital, and she cried and wanted to go with him to wait upon him, but they wouldn't allow her to do that.
I am not related to the applicant, and have no interest in her claim.
I have understood the questions asked me, and the answers to them have been correctly rendered in this deposition.
James (his mark X) Royal
***********
I found the information for this post in Katie Cleage's Civil War Pension file.
For links to the other posts in this series, click this link – Katie Cleage's Pension Hearing