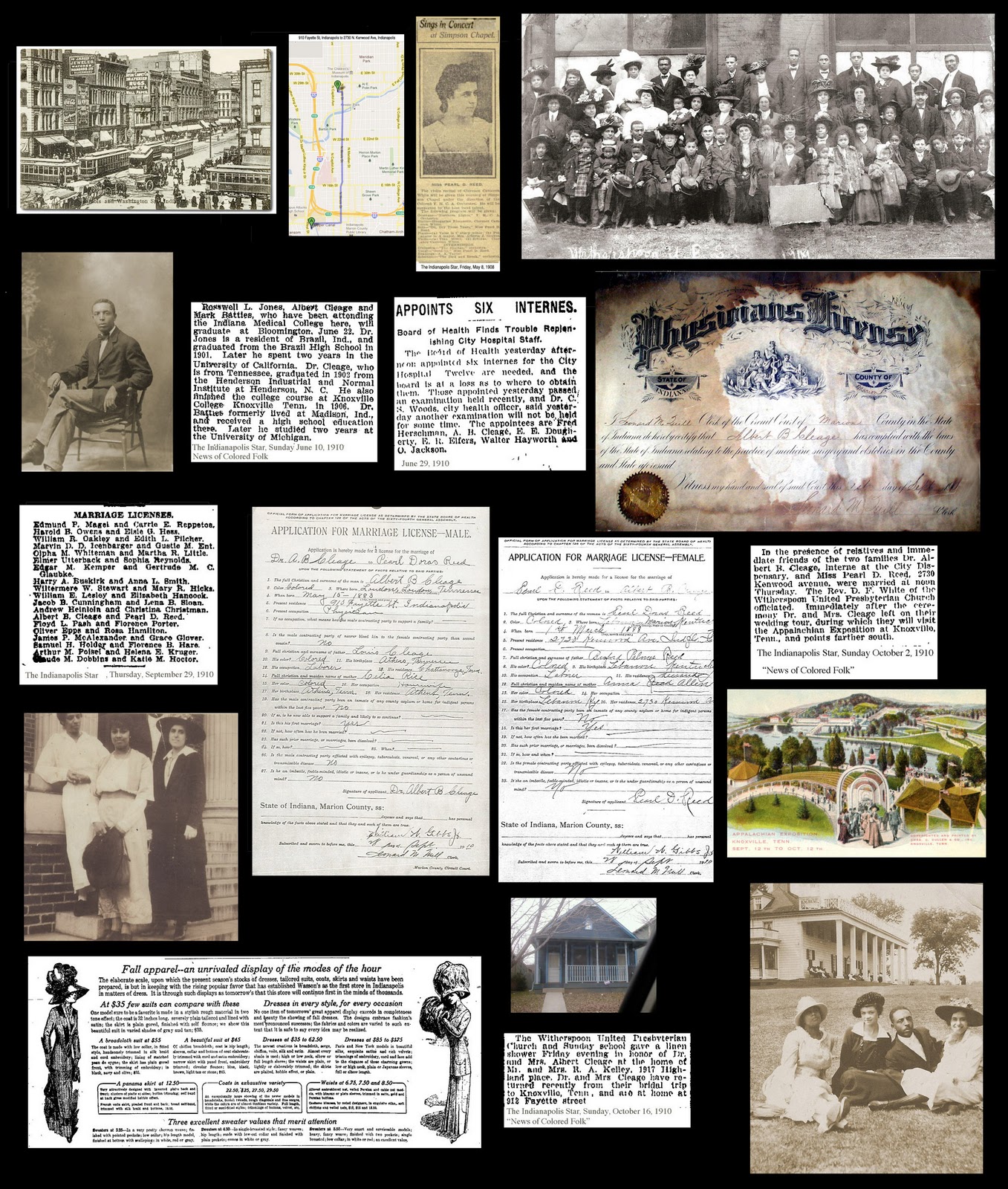 My grandmother, Pearl Doris Reed, was born in Lebanon, Kentucky in 1886.  She the youngest of the seven children of Anna Allen Reed.  Pearl's father was Buford Averitt, a white physician.  By 1888 Pearl's oldest brother, George, had moved to Indianapolis Indiana to work at Van Camps cannery. The rest of the family soon followed.
My grandfather Albert Buford Cleage, Sr was born in Louden, Tennessee in 1883.  He was the youngest of the five children of Louis and Celia (Rice) Cleage.  The family eventually moved to Athens Tennessee.  In 1906 he graduated from Knoxville College and moved to Indianapolis to attend Purdue University College of Medicine.  Three of his older siblings were already there.  He moved in with his brother Jacob and his wife Gertrude. His brother Henry also lived in the house.
Albert and Pearl met at church.  They both signed the petition to organize a United Presbyterian Church on April 30, 1907.   Pearl sang in the church choir and also at community and church events.  By the time I heard her sing she had a frail, old voice.  I wish I could have heard her back in her prime.  In 1907 Pearl was 21. Albert was 24.
The courtship lasted for three years. Pearl's mother was against the relationship because she thought Albert was "too dark".  Of course this caused problems with them meeting and going anywhere together.  Many letters were exchanged and they met at church functions.  Their houses were about 2.3 miles apart.  It was a straight trolley ride down N. Illinois in those days. Today that would be a 23 minute ride by bus.  I imagine it took a bit longer by trolley in the early 1900s.
As Albert neared the end of his course of study, his thoughts turned to where he would practice and to their marriage.  They set the date for October, 1910.  He graduated in June and as an intern was appointed to the City Hospital. On September 2 he received his Physicians License and on September 29, 1910 Albert and Pearl applied for a marriage license.  Later that day, they were married in a quiet ceremony at Pearl's house. The Indianapolis Star column "News of Colored Folk" contained this item,
"In the presence of relatives and immediate friends of the two families Dr. Albert B. Cleage, Intern at the City Dispensary and Miss Pearl D. Reed, 2730 Kenwood Avenue were married at noon Thursday. The Rev. D.F. White of the Witherspoon United Presbyterian Church officiated.  Immediately after the ceremony Dr. and Mrs. Cleage left on their wedding tour, during which they will visit the Appalachian Exposition at Knoxville, Tenn., and points farther south."  The points farther south would have been his family's home in Athens, Tennessee.
Another piece News of Colored Folk, dated Oct. 2, 1910 said, "The Witherspoon United Presbyterian Church and Sunday school gave a linen shower Friday evening in honor of Dr. and Mrs. Albert Cleage at the home of Mr. and Mrs. R.A. Kelley 1917 Highland Place. Dr. and Mrs. Cleage have returned recently from their bridal trip to Knoxville, Tenn, and are at home at 913 Fayette street."
The add in the lower corner of the collage above has several pictures of women in traveling suits and big hats. The photograph of my grandmother over it shows her wearing a similar suit and hat, although not quite as flamboyant. Although this photograph was taken later in 1910 at a medical convention, I imagine this is the outfit she wore for her wedding tour. The little blue house is the one they came home to on Fayette street and the photo in the corner shows two women and my grandfather and my very happy looking grandmother at the medical convention later that year.
My grandparents ended up in Detroit where my grandfather practiced medicine and they raised their seven children.  They were together 46 years, until my grandfather's death in 1956. There are 9 grandchildren, 21 great grandchildren and 20 great great grandchildren.  We've spread out over the United States and Canada.
This is a
Sepia Saturday
offering and an entry in the Fall Marriages Genealogy Carnival.