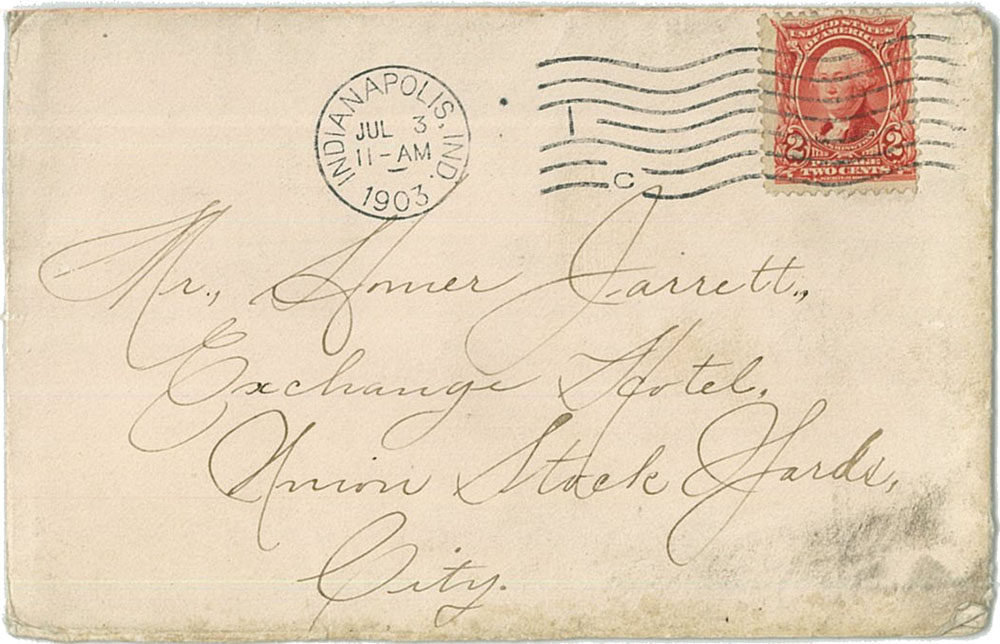 2714 Kenwood Ave.
Indianapolis,
July 2, 1903
Homer Jarrett
Exchange Hotel
Union Stockyard City
Homer;
I received your interesting little letter and was delighted to hear from you. I do not feel very well, in fact, I do not believe any one could this warm weather, unless they were composed of iron. Do you?
I think we shall leave for Benton Harbor Monday A.M. if I am not mistaken. We were speaking of our trip today and mother spoke as though she wanted to stay only two weeks, but I shall try to persuade her to stay two months.
Homer you spoke of our going to the park Sunday, well, if we go, I think it had better be at 2 P.M., for it will be cooler then.
If I have worried you with this message, forgive me. I am tired and angry and had to vent my ill humor on someone.
Good-by.
Pearl D. Reed
__________________
We will never know why Pearl was tired and angry, but I did find out about the weather for that day and traveling to Benton Harbor by train. According to the Indianapolis Journal, on July 2, 1903, the high temperature was 90 degrees and the low was 70. It was clear and sunny with a south wind.
July 2, 1903 weather Thu, Jul 2, 1903 – Page 2 · The Indianapolis Journal (Indianapolis, Indiana) · Newspapers.com

Pearl and her mother traveled from Indianapolis and Benton Harbor at least once a year to visit her older sisters Sarah Busby and Louise Shoemaker and their families. They would have taken the train. One train left at 7 AM and arrived in Benton Harbor at 8 PM that same day. The later train left at 11 AM and arrived the next day at 3:10 PM.
Fri, Jul 17, 1903 – Page 9 · The Indianapolis Journal (Indianapolis, Indiana) · Newspapers.com
The trip was 303 miles and lasted about 13 hours. The cost of a ticket in 1903 was about two cents a mile, bringing a the cost of one ticket to $6.06.
When I graduated from college, I took a trip to San Francisco via the Greyhound Bus. My grandmother Pearl packed me a big lunch to carry with me. I remember fried chicken enough to share and white buttered bread. And fruit. I imagine they packed a good lunch for the train trip.