The only things I knew about my parent's wedding was that my mother wore blue and they were married at Plymouth Congregational Church. My parents separated when I was eight years old and apparently the clippings that my grandmothers must have saved, disappeared.
When I found an archive for the Detroit Tribune Newspaper, published by my publishing poet cousin James McCall, I was hopeful that I would find an article that described the wedding. And I did! Unfortunately the article is so faded as to be almost blank. To say this was frustrating, is an understatement. The archive is housed at the Library of Congress – Chronicling America. Maybe one day Newspapers.com will add The Detroit Tribune to their collection and find better copies.
Here are the pieces I found. The first one, about a before the wedding event.
"Doris Graham is being feted, because Wednesday evening she will say "I do" to Todd Cleage, after which they will go to Lexington, KY. The local chapter of Iota Boule fraternity honored Doris Graham and Todd Cleage Friday night at the home of Dr. and Mrs. Gamble on Willis street. Among those who came with heart loads of good wishes were: Mr. and Mrs. Henderson, Dr. and Mrs. James Moore, Mr. and Mrs. M. Graham, Atty. and Mrs. P. Piper, Dr. Lloyd Bailer, Mr. and Mrs. H.S. Dunbar and their petite daughter Margie, Dr. and Mrs. Peyton Johnson, Mr. and Mrs. Winburn and Dr. and Mrs J.A. Moore and others."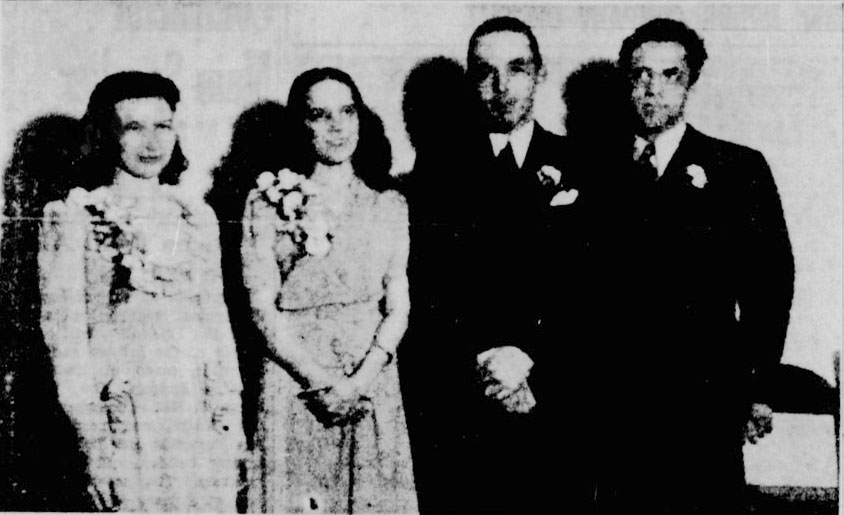 "These young people composed the bridal party of the Graham-Cleage wedding which was solomnized at Plymouth Congregational Church Wednesday evening, Nov. 17. They are left to right – Mrs. Frank Elkins, Jr. matron of honor; center the bride and groom, the Rev. and Mrs. Albert B. Cleage, and Dr. Louis Cleage, best man."
I found this little blurb from the Michigan Chronicle, the other black newspaper at the time. So, I at least know it was a beautiful candlelight ceremony!