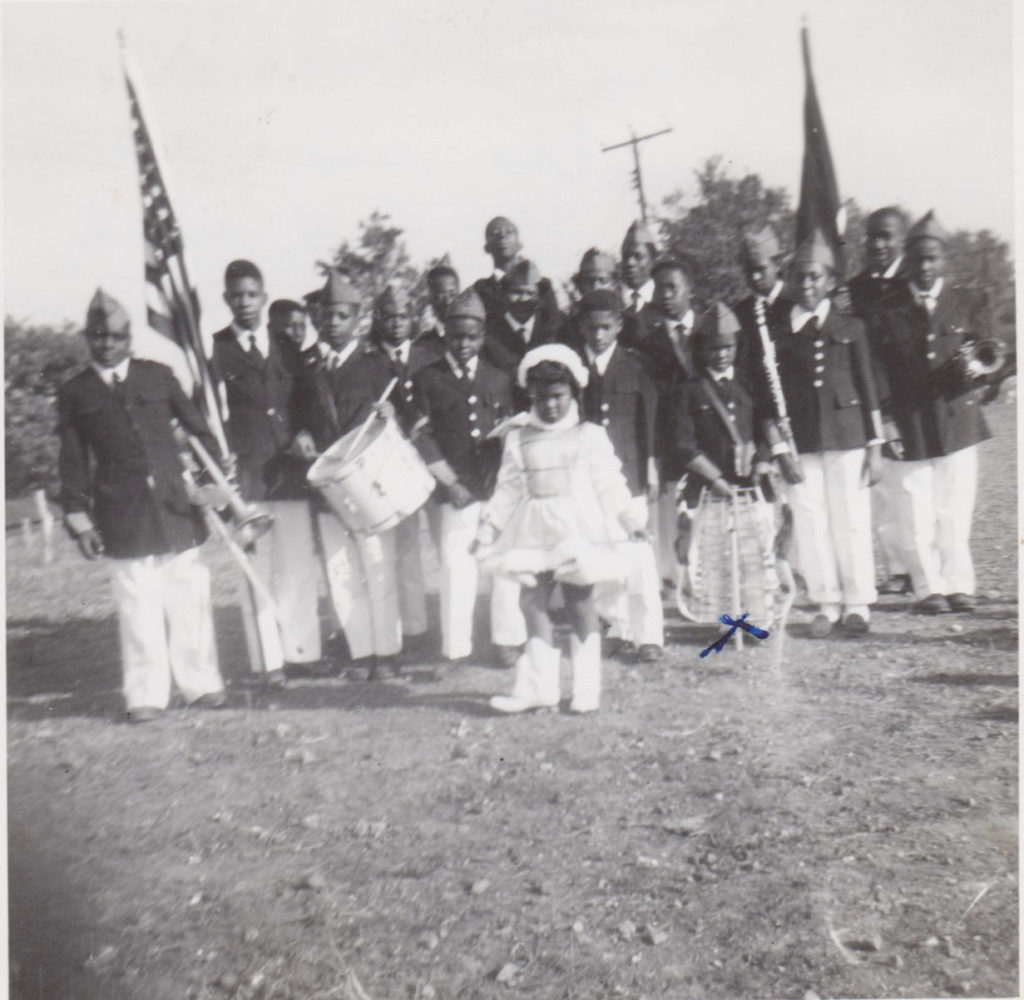 On the back of the photograph it says in part, "This is part of Cook High's band. Greta looks sour on this this picture, but she was cute. That is Janice where I have the X."
My cousin Janice shared this memory with me –"Greta is 'the little girl' smile and I am playing the bells. Must have been in about the 2nd grade… The writing looks like my grandmother Cleage's handwriting. Greta started marching as a junior majorette when she was 5. I joined the band in the 2nd grade. There were 6 to 8 senior majorettes, but Greta marched beside the Head Majorette. My Uncle was the school principal and my Aunt Bea made Greta the Junior Head Majorette and then Head Majorette. Smile… K to 12th grade. We often laugh about that."
The bells that Janice is holding are described thus on Wikepidea:
"When used in a marching or military band, the bars are sometimes mounted in a portable case and held vertically, sometimes in a lyre-shaped frame. However, sometimes the bars are held horizontally using a harness similar to a marching snare harness. In orchestral use, the bars are mounted horizontally. A pair of hard, unwrapped mallets, generally with heads made of plastic or metal, are used to strike the bars, although mallet heads can also be made of rubber (though using too-soft rubber can result in a dull sound). If laid out horizontally, a keyboard glockenspiel may be contrived by adding a keyboard to the instrument to facilitate playing chords. Another method of playing chords is to use four mallets, two per hand."
Janice's uncle E. Harper Johnson was the second and final principal of Cook highschool. He was married to Beatrice Cleage, sister of Janice and Greta's mother Juanita Cleage and daughter of Edward Cleage my grandfather Albert's brother.
More posts about this branch of the family:
Childhood Memories by Beatrice Cleage Johnson – Athens Tennessee
Memories to Memoirs
Uncle Ed's Daughters
"Unveil Monument to Dr. J. L Cook"