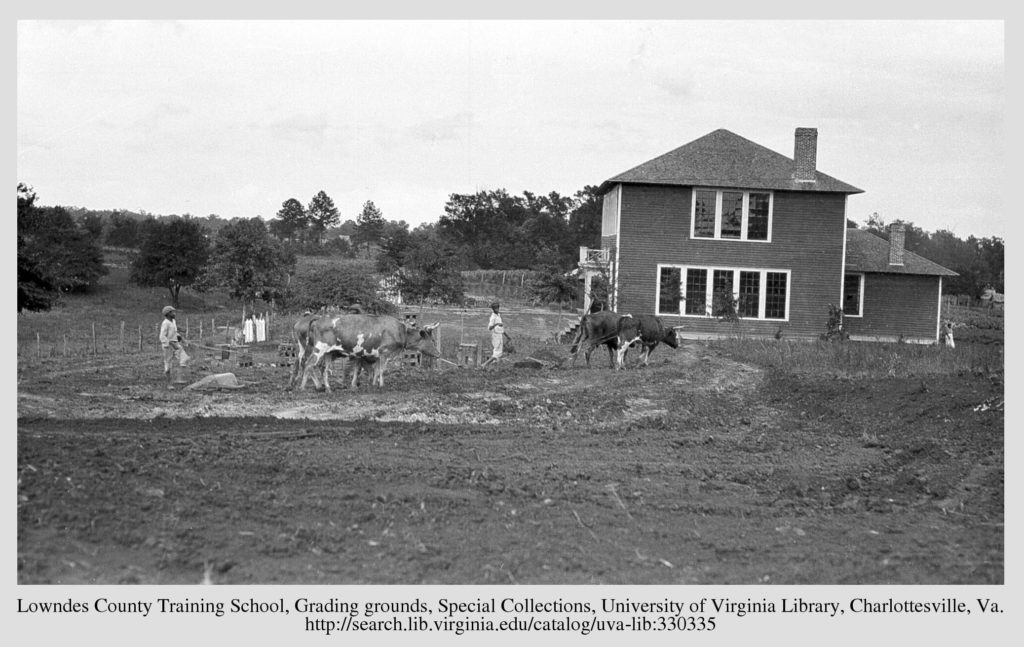 Several months ago I spent hours at the local Family Search Center looking through microfilmed property records trying to figure out how my 2X great grandfather, Joseph Turner became a land owner. The only thing I found out was that he bought and sold some lots in Hayneville. I found nothing about the land he farmed, until I found the article below in a 1918 issue of The Emancipator. The article says that he owned 240 acres.
Joseph Turner died in February of 1919. In 1910, Joseph Turner was 62 years old and lived on his farm in Lowndes County, Alabama. His second wife Luella, was 29 and his four youngest children – John, Anna, Dan and Josephine were between the ages of seven to one years old. He owned the farm and it was mortgaged.
In 1920 Luella was 37. She lived on the farm with her seven children, John (16), Annie (15), Dan (14), Buck (12), Elizabeth (9), Talmadge (7) and Selena (an infant). Two children, Josephine and Luella, died in 1915 and 1916. Although Joseph Turner left Luella the land, there was a dispute about it between Luella and Alonza, Joseph's youngest child from his first marriage and the only one from that union still living at the time. Soon afterwards, Luella and her children moved to Montgomery. I assume Alonza got the land, but I have no records.
From The Emancipator Montgomery, Ala, April 30, 1918
At the closing of the Lowndes County Training School for Negroes at Charity, Ala. a few days ago many startling facts concerning the progress and development of the school and the colored patrons in that community were made known to the public. This promising school of which Prof. S.T. Wilson is principal, was established about two years ago. The institute has three splendid buildings. The colored people of the community raised $1,025 including labor and the cost of the land. The balance came from the Rosenwald School Fund, through Prof. Booker T. Washington, Jr., and the state of Alabama. One two-story building, costing $2,350 was dedicated 1916 by former Spt. Fagain, Dr. James L. Sibley, Probate Judge J.C. Wood, and others. The school also has a two-story frame teachers home worth $1,500 donated by Fisher of Nshvile, and a one story frame trades building, costing $500, donated by the Slater Fund.
The school has an enrollment of 147 boys and 129 girls, taught by five teachers.
According to Dr. A.F. Owens of Selma University, who preached the annual sermon at the recent closing of the Lowndes County Training School, within a radius of four miles, there are 43 patrons who own a total of 6,259 acres of land ranging from 2 acres of land to 1,000. Among these land owners are the following:
The McCords, who own 1,000 acres
Mary Ross, 500 acres.
The Brooks estate, 500 acres.
S. Dandridge, 310 Acres.
Chisholm Brothers 250 acres.
Joe Turner 240 acres.