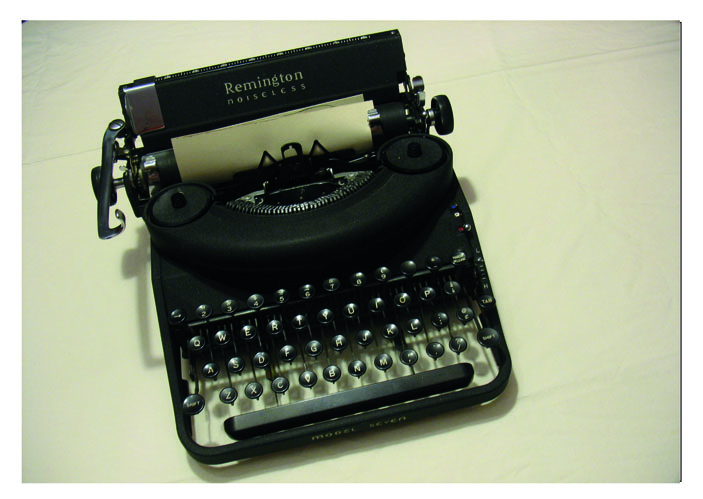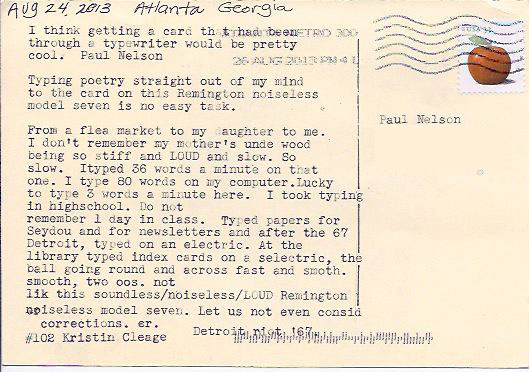 "I think getting a card that had been through a typewriter would be pretty cool." Paul Nelson
Typing poetry straight out of my mind
to the card on this Remington noiseless
model seven is no easy task.
From a flea market to my daughter to me.
I don't remember by mother's underwood
being so stiff and LOUD and slow.  So
slow. I typed 36 words a minute on that
one. I type 80 words on my computer. Lucky
to type 3 words a minute here.  I took typing
in high school. Do not
remember 1 day in class.  Typed papers for
Seydou and for newsletters and after the '67
Detroit, typed on an electric. At the
library typed index cards on a selectric, the
ball going round and across fast and smoth.
smooth, two oos. not
like this soundless/noiseless/LOUD Remington
noiseless model seven.  Let us not even consid
corrections. er.