This is my 4th year participating in the A-Z Challenge. I will be writing about people who were born into slavery and were later free. In a few cases I will be writing about the descendants of enslaved people who were born free.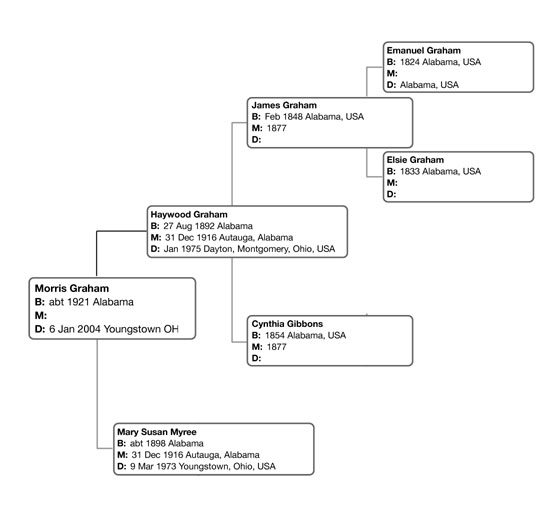 Emanuel Graham and his family are not related to me. I chose to highlight only one of his descendants for each generation. He had many, many more descendants.
Emanuel Graham was born into slavery about 1823. He and his family appear in Judge William A. Graham's Estate Record in 1860. After freedom he continued to live and raise his family in Prattville, Alabama. He worked as a laborer. Emanuel never learned to read or write.
Emanuel's son James Graham was born into slavery in 1848 in Alabama. He was a farmer and eventually owned his own farm. His children could read and write, although he never learned to.
James' son Haywood Graham completed the eighth grade in Prattville, Alabama. He farmed on rented land until moving to Youngstown, Ohio with his wife and children between 1920 and 1930. He worked as a laborer at a coke plant and on road construction. He rented his house for $16.50 a month. His children attended high school. In 1942 he worked for the W.P.A. Haywood died in Dayton, Ohio in 1975.
Haywood's son Morris Graham was born in 1920 in Prattville Alabama. He completed four years of high school and worked as a porter. He died in Youngstown Ohio in 2004.
I found this information using Census Records, Death Records and Directories.