George Reed was my grandmother Pearl Reed Cleage's oldest brother. He gave his birth date as January 10, 1867, in Lebanon, Marion County, Kentucky.  He never married and had no children but as the oldest in a home without a man, he became the man of the house.  He never learned to read or write and earned his living as a laborer.  We have no photographs of him.
George is found in the 1870 through 1910 Census with his mother Anna Reed and various siblings.  After Anna died and Pearl married I haven't found him in any census but I did find him in the Indianapolis City Directory again in 1930. Turned out, George was not listed in the 1920 or the 1930 census due to the census taker stopping at the end of the 2800 block of Kenwood (both times).  George does appear in the 1930 and 1940 Indianapolis City Directory at 2730 Kenwood Avenue.  Pearl married in 1910 and mother Anna died in 1911, which means that George lived at 2730 Kenwood, alone, for over thirty years.  Today the 2700 block of Kenwood is a parking lot.
George is listed as 3 in the 1870 census and 13 in the 1880 census.  This would make him born in 1867.  George is listed as 28 in the 1900 which would make him born in 1872, same as on his death certificate.  Clearly there is a five year discrepancy in his age as reported on various documents.
According to my aunt, George migrated to Indianapolis as a young man of 15 to work at the Van Camp Canneries in 1887.  Since there are two colored George Reed's in Indianapolis during the 1880s we need to be careful here.  Our George is listed in 1891 at 11 Willard Ave.  There is a George E in 1889 and a George in 1888 in the City Directory that also may have been him.  I believe that George did arrive in Indianapolis in 1887, however he would have been twenty years old and not fifteen at that time. During the next several years the whole family followed George to Indianapolis.
 My Aunt Anna told me that a friend of her parents called them from Indianapolis in 1945 to tell them that George had been found wandering around disorientated.  My grandparents went and got him and he stayed with them in Detroit where he died later that year.  He died on May 28, 1945.  His body was sent back to Indianapolis by train and he was buried in Crown Hill Cemetery.  There is a simple marble slab with his name and dates on it.  I visited once.  You can see it here.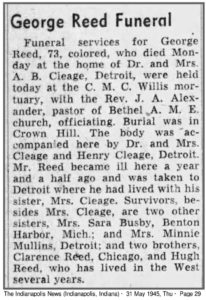 George Reed Funeral
"Funeral services for George Reed, 73, colored, who died Monday at the home of Dr. and Mrs. A. B. Cleage, Detroit, were held today at the C. M. C. Willis mortuary, with the Rev. J. A. Alexander, pastor of Bethel A. M. E. church, officiating. Burial was in Crown Hill. the body was accompanied here by Dr. and Mrs. Cleage and Henry Cleage, Detroit. Mr. Reed became ill here a year and a half ago and was taken to Detroit where he had lived with his sister, Mrs. Cleage. Survivors, besides Mrs. Cleage, are two other sisters, Mrs. Sara Busby, Benton Harbor, Mich; and Mrs. Minnie Mullins, Detroit; and two brothers, Clarence Reed, Chicago, and Hugh Reed, who has lived in the West several years."
According to the Administrator's Final Report there was $18,462.91 (Worth $243,814.95 in today's dollars.) on deposit at the Railroad Men's Building and Loan Association.  He had a dividend on a savings account for $193.50 in 1945 and another $195.24 for 1946.  Royalty from Rubber Stock came to $3.00, which brought his assets to $18,854.65.  He also owned a single home at 2730 Kenwood, Ave.  Included in the $1,025 costs for the administration of the Estate are $9.65 railroad fare to carry his remains back to Indianapolis and $75 to the Hoosier Monument Company.