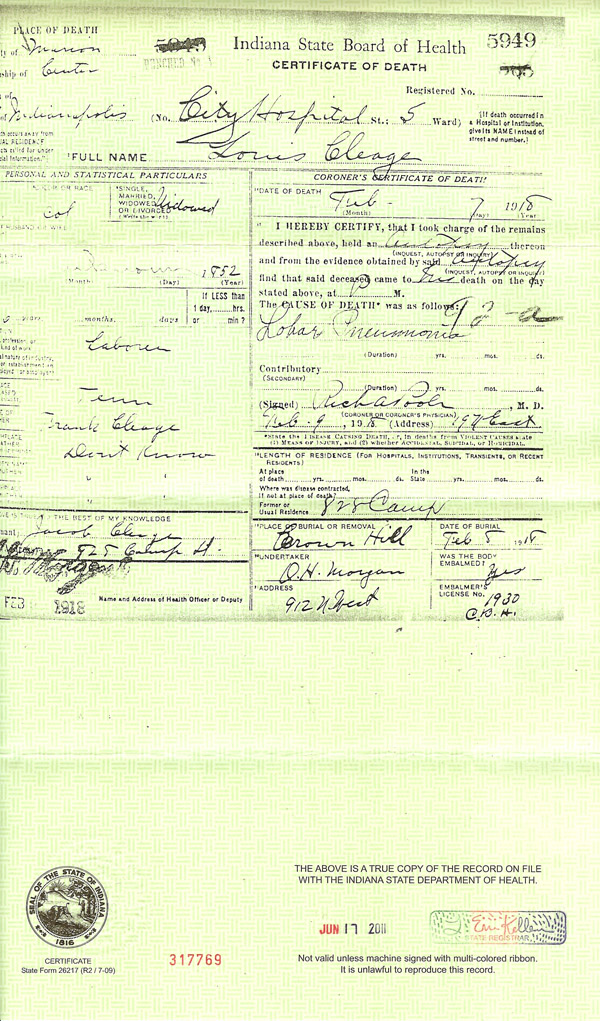 I recently found out that my Great Grandfather Louis Cleage died in Indianapolis, Indiana in 1918 through a listing for Crown Hill Cemetery. I previously found him listed in the 1918 Indianapolis City Directory living son Jacob Cleage.
The death certificate says he died in Marion County, Indianapolis, Center Township at City Hospital and his full name is Louis Cleage. He was Colored and widowed. He was born in 1852 in Tennessee. He was a laborer. According to the informant, his son Jacob Cleage, Louis' father's name was Frank. Mother's name unknown.
There was an autopsy performed and he died on February 7, 1918 in the P.M. of Lobar Pneumonia. His son Jacob lived at 925 Camp Street and Louis' last address is listed as 828 Camp. He was buried at Crown Hill Cemetery Feb. 8, 1918.
What new information did I learn or have confirmed from this death certificate? I found that his father's name was Frank Cleage. In the 1870 US Census Louis Cleage, born around 1852, was living with an older adult named Frank Cleage in Athens, TN. I assumed that Frank was Louis' father, but relationships were not noted in the 1870 US Census.