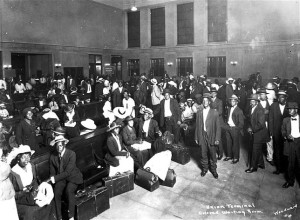 For this year's April A-Z Challenge I am blogging a series of sketches about the free people formerly enslaved on the Cleage plantations in Athens, Tennessee. Most  are not related to me by blood, although our families came off of the same plantations – those of Samuel, Alexander and David Cleage.   Click on any image to enlarge.
Today I'm taking a break from individual Cleages to describe how I came up with the names I am researching and how I find the information I do about them.  I did find an "I" for Isabel Sherman, the granddaughter of Jane  from yesterday's post Henry & Jane Cleage. I plan to write Isabelle's story up on my day off – Sunday.
How do you find the people?  As I was researching my Cleage ancestors, I found the names of other Cleages – in the bills of sale, the Wills, the letters and in the Census. I began to wonder what happened to those other Cleages.  Some of the information came from online research and some came from copies of documents that were given to me.
How do you know they were from the Cleage plantations?  I am sure they were from the Cleage plantations if their names appear on slavery era documents from the Cleage plantations.  It helps when their ages are mentioned because then I can check them against the ages in the census records.  Otherwise, I go by the name Cleage.
Where do you find your information?  I met a descendent of another Cleage family through my tree on ancestry.com and he sent me copies of bills of sale and the letter to the overseer that he had been given.
I found copies of slave holders Wills on FamilySearch.com.  On a whim, I decided to look for Samuel Cleage's will.  They are not indexed so I had to go to the probate records for McMinn County and then look through the online books until I found the Wills.  I knew the time period so I was able to narrow it down but it took time and luck.
On Ancestry.com I was able to search for names in the census records. Slaves were only counted by age, color and sex, unless the enumerator made a mistake and put their names down.  Always nice if you run into that.  I can also find Agricultural Schedules, which tell how many animals, what kinds and what kind of crops a farmer grew. City Directories are a great way to trace people that cannot be found in every census and also to track them between censuses.  You can also find out spouses (dead and alive), occupations and addresses. An added bonus is finding who lives in the same house – are they siblings, parents and children, married couples?  The directories also are helpful in pinpointing when someone arrived in a new city and left the old one.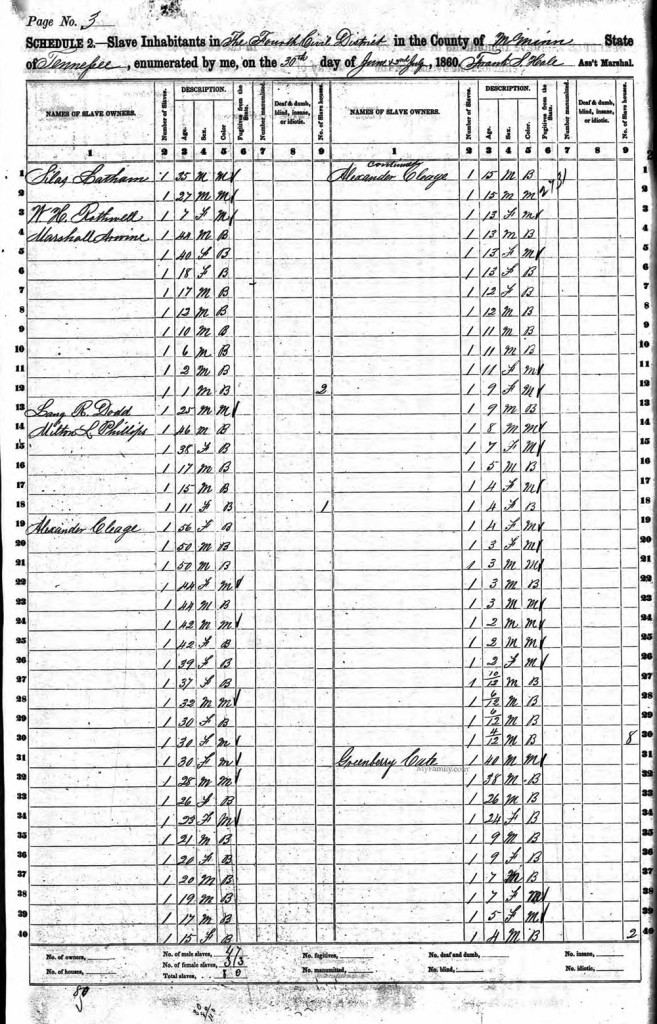 One category that I ignored on Ancestry.com for a long time was the military area.  I would check draft registrations, which give you a brief description, but I didn't think of looking for U.S. Colored Troops Military Service Records and when I did I found a wealth of information. I also found military information on FamilySearch.com and on Fold3.com.
Marriage records and death certificates can give good information, including parent's names, witnesses, occupation, address and name of spouse.   I look for newspaper articles on Ancestry.com, Newspapers.com and genealogybank.com. Sometimes I google a name and come up with unexpected and interesting information.
How do you organize the information so you know who is who?  I started a new tree for each person or couple I found. That made it easier to search for information and to store it when found.  I started over 17 trees to keep things straight, in addition to my main family tree and a tree I started for the white Cleages.  There were even more but the more I researched, the more I could combine trees when I found people married into an already existing tree or that they were the child of people already in an existing tree.  The only problem is when I can't remember which of the larger tree someone is in and I have to go search a few trees to find them.

How do you make the connections? I make the connections by using the records mentioned above, and by getting to know the families.
What do you mean when you say you found one family on one page of the census and another family two pages away?  The United States Census is taken every 10 years, in the years ending in zero.  Enumerators were hired to go out and count the population. They asked them questions about age, marital status, where they were born and other questions. Some questions changed depending on the year. You can never be sure who gave the answer to the questions. It might have been a child in the family who was home or a neighbor if nobody was home.  McMinn County, Tennessee, where Athens is located, was divided into 19 Townships in 1880. Each one had from 15 to 23 pages.  The people who were enumerated on the same page lived next door to each other or a few houses down. People on the previous page or the next page were still pretty close neighbors. A page looks like this: