Nursing students Sylvia and Jacqui Vincent, my 2nd cousins once removed, appeared on the cover of the June 15, 1961 issue of JET magazine.  After reading the article about my cousins I noticed the many short articles about the Freedom Rides that appeared throughout the magazine. The first  Freedom Ride took place on May 4, 1961, just a few weeks before this issue. Integrated groups boarded two buses in the north with plans to defy the segregated seating on the buses and the segregated waiting rooms when they got to the south.  They met violence as they entered Alabama. They were beaten and the bus was set on fire. I found the following horrifying description of that first ride in this article Get On the Bus: The Freedom Riders of 1961.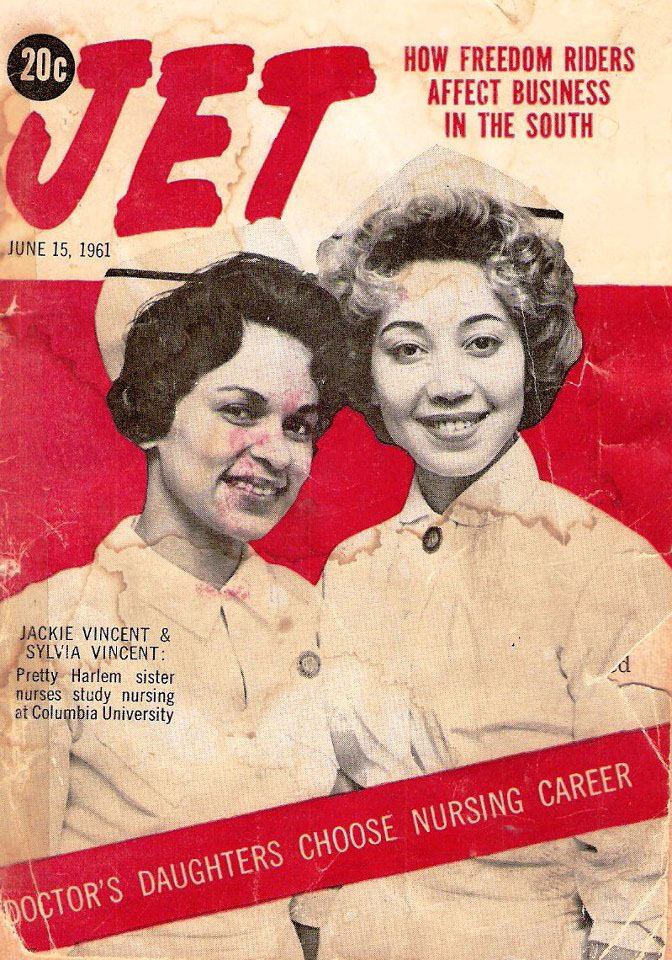 Johnson Publishing Company's web page describes JET Magazine   as follows:
JET is the No. 1 African-American newsweekly and has more than 7 million readers. As Editor-in-Chief of the magazine and its website, JETmag.com, Mitzi Miller continues the legacy of serving credible and entertaining information to the Black community.
Initially billed as "The Weekly Negro News Magazine", JET is noted for its role in chronicling the early days of the American Civil Rights movement from its earliest years, including coverage of the Emmett Till murder, the Montgomery Bus Boycott, and Martin Luther King, Jr.  Our wedding announcement section "Black Love" and "Beauty of the Week" are a long-standing traditions in JET magazine.
The publication has been a staple in homes and businesses of Black Americans since 1951, bringing life to its popular catchphrase: "If it isn't in JET, it didn't happen." JET is the beloved bible of America Americans and ranks number 4 in reader engagement.