Although I inherited DNA from my paternal Grandmother Pearl Reed Cleage, I did not inherit her MtDNA, which goes through the maternal line, from mother to daughter to granddaughter etc. I had to convince one of my father's sisters to be tested. My Aunt Gladys agreed. Oral history told us that my Grandmother's mother's mother was a Cherokee Indian, however, her MtDNA L3e21b1, originates in Sub-Saharan Africa.  No Native American DNA showed up at all, in either my MtDNA or my autosomal (total) DNA.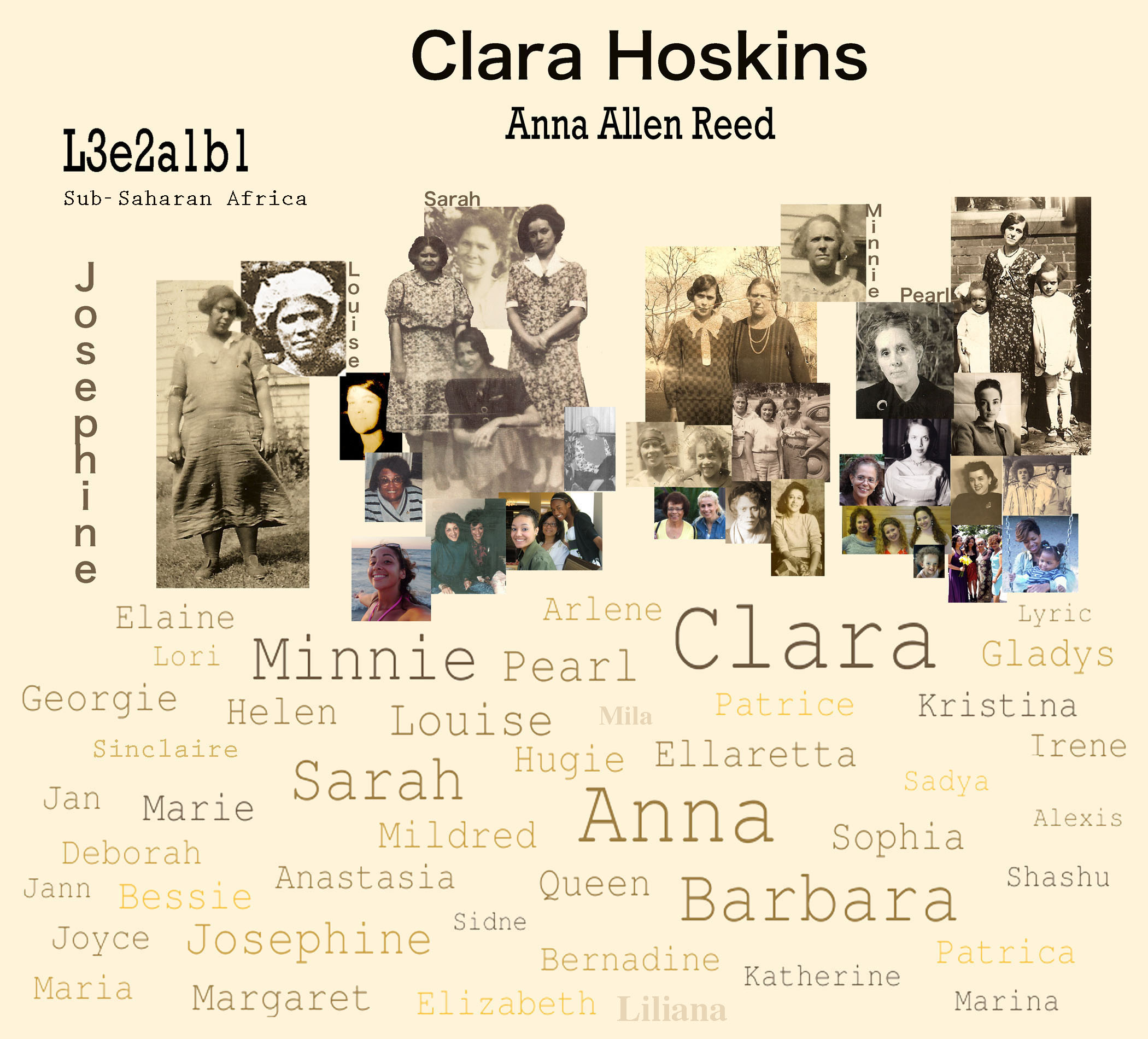 Clara Hoskins is the first woman in this ancestral line that I can name.  She was born about 1829 in Kentucky. Her daughter, Annie Allen,  and her 5 granddaughters were also born in Kentucky. From there, the family moved to Indianapolis, IN and on to Benton Harbor and Detroit Michigan and spread out from there to California, Illinois, Windsor and Toronto.
Annie passed her mtDNA to all of her 8 children but because it passes from mother to daughter, only the five daughters passed it on to their daughters. The son's children received their mother's MtDNA.  Those 5 daughters birthed 15 granddaughters, who birthed 12 known great granddaughters. Josephine's daughter Bessie, disappeared so I don't know if she had children.  From those 12 great granddaughters I have 11 known 2x great granddaughters.
 There are several lines that I lost about here. I can only vouch for 1 3x great granddaughter but there are possibly others from those 5 unknown to me lines.  Hopefully, someone will let me know. This makes a total of 42 known descendents with Clara's MtDNA.
Anna's oldest daughter, Josephine, had one daughter, Bessie, who ran away from home in her youth and was never heard from again. Unfortunately, I don't know Josephine's married name so I can't try and find Bessie.  She last makes an appearance in the 1900 census living with her grandmother in Indianapolis, Indiana.
Lillian Louise Reed Shoemaker had a son and a daughter, Mildred, who had 1 son only.
Sarah Reed Busby had 5 daughters.  Elleretta had 2 sons only.   Margaret had 2 daughters,  Sarah and Arlene. Sarah had a daughter. Queen had 1 daughter, Elaine, who had 2 daughters, Marina and Lori.  Lori had 1 son and 1 daughter, Alexis. Marina had  2 daughters, Sinclaire and Sidne. These daughters are all still in school.  Sophia had 1 daughter, Bernadine, who had 1 son only. I have no children for Marie.
Minnie Reed Mullins had 5 daughters.  Helen had 2 sons and 2 daughters, Patricia and Joyce. Patricia has 1 daughter, Anastasia. Joyce has 2 daughters, Elizabeth and Kristinia.  I don't know if either of them had children.  Georgie Anna had 1 daughter, Barbara Anne. I don't know if this daughter had any children.  Hughie Marie had 1 daughter, Patrice, who has 1 daughter, Katherine, who has no children. Minnie had 1 daughter, Deborah Anne.  who has no children. Barbara Louise had 4 sons only.
My grandmother Pearl Reed Cleage had 3 daughters, Barbara, Gladys and Anna. Barbara has 1 son only. Gladys has 3 sons and 1 daughter, Jan. Jan has 1 son and 3 daughters, Shashu, Jann and Sadya. Shashu has 1 son and 1 daughter, Lyric. Lyric is too young to have children.  Anna has 2 daughters, Anna and Maria. Anna has 2 sons and 2 daughters, Liliana and Sophia. Liliana has 1 toddler daughter. Maria has 2 children by adoption who will not share her mtdna.