I have never participated in a carnival of genealogy before.  I thought about it but never took the plunge.  After reading Jasia's contribution about her tinkering father I started thinking about the handy men in my family.  On my father's side his brother Hugh Cleage was called on when things needed to be fixed.  My husband's father was famous for building things and taking them apart.  He could build and he could fix, he just didn't seem to have enough time to finish.  Sometimes he would get ideas for how he could do it better and change up in the middle of a big project multiple times.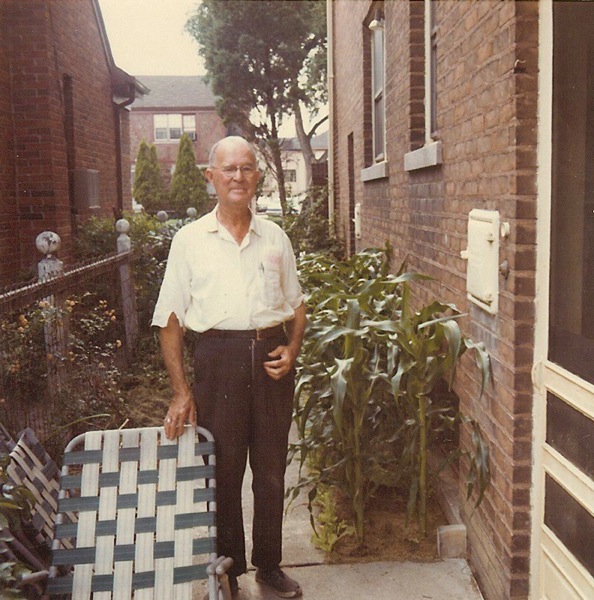 The one I'm going to write about is my mother's father, Poppy.  I've written about him before, about his notebook with projects started and completed.  See that here.  Poppy had a workshop in his basement.  It was in the old coal room.  He had a workbench, a tool chest, and a bin full of small pieces of wood.  He had filled up an old treadle sewing machine with a stone to sharpen knives and tools.  Outside of the workshop in the main basement was a long workbench.  There were short pieces of wood stored underneath.  Against the wall were longer pieces.  The workshop had a special smell of machine oil and wood and basement.
Poppy made furniture sometimes.  Not fine pieces but basic, useful pieces.  A rocking chair that sat in the upstairs hall when my mother was growing up where it was used to rock fussy babies and sick children.  I remember it next his bedroom window where you could sit and rock and look out over the backyard.  He made a small table that sat on the landing for the telephone.  The phone had a long cord so it reached upstairs at night and downstairs during the day.  He built me a wonderful two-sided dollhouse when I was about 8 and described one I had seen at a friend's house.  I was the envy of my cousin and sister.  I still have it.
During the summer he set up a homemade slide when we came over.  The wood was planed and sanded smooth and then waxed regularly with the ends of candles.  I don't remember any splinters.  It wasn't a very long slide and eventually it served more as a support for our tents.
Poppy built flower boxes for his back porch and the back yard as well as for his daughter's porch.  He could be seen coming up the walk to repair things with his toolbox, like a doctor coming to see a patient.  I remember Saturday afternoon spent at Plymouth Congregational Church while he fixed something; often it was the temperamental furnace.  Both of my grandparent's sons died as young children so my mother spent a lot of time with her father fixing things.
My grandfather was in his eighties when things in his neighborhood became very dangerous.  It was around 1968.  Someone shot into the house.  A man walked in to the open side door, went upstairs and went through my great, great Aunt Abbie's things and stole some.  She thought it was odd but didn't try to stop him.  Luckily he came in and out of the house without running into my grandfather.  Eventually someone came to the door with a gun.  Poppy slammed the door shut and fell to the floor.  After this he and my parents decided to sell their houses and buy a two family flat together.  They bought one out by the University of Detroit.  Poppy set up his basement workshop again.  He and my mother planted corn and green beans and tomatoes in every spare space in the small yard.  Some days he would take a wagon and collect useful or interesting items people had thrown out around the neighborhood.  It was my last year of college and I was ready to leave home.  I wish now I had taken the time to sit and talk to my grandparents.  Maybe they were ready to tell some of those stories I wonder about if I had just asked.