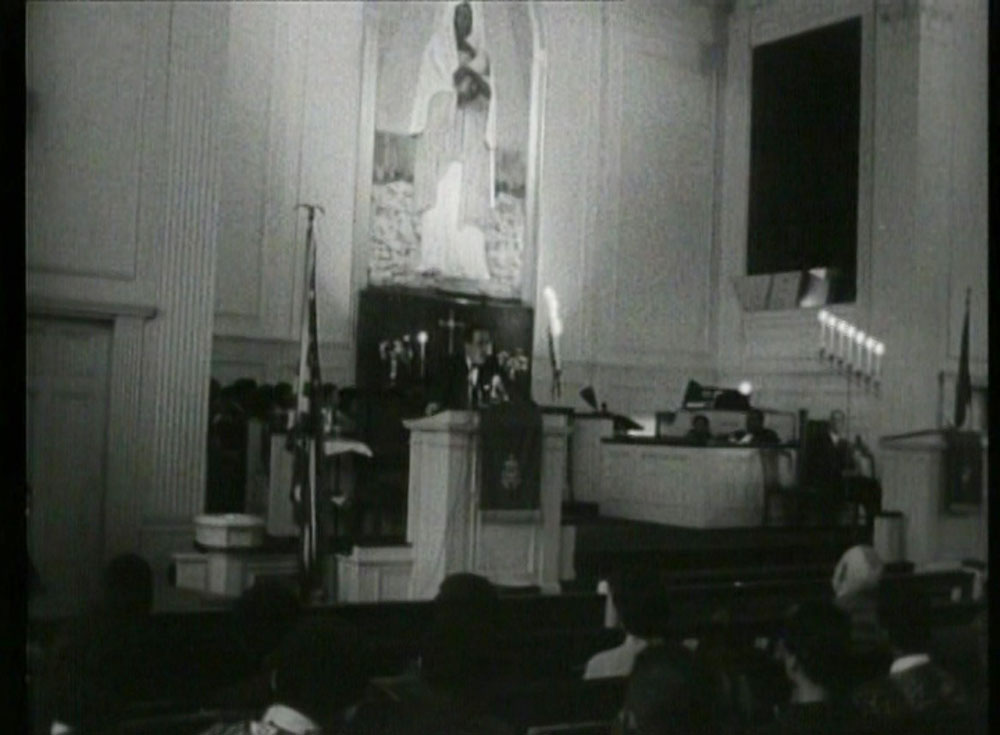 These are my father, Rev Albert B. Cleage Jr/Jaramogi Abebe Agyeman's sermon notes for New Year's Day of 1967.   I also included the bulletin for that day and one of the songs sung by the choir.  The painting of the Black Madonna and child in the photograph above was not yet painted on New Year's day.  It was painted during the spring of 1967 and unveiled on Easter Sunday of that year.  The Detroit riot/rebellion occurred during the summer of 1967.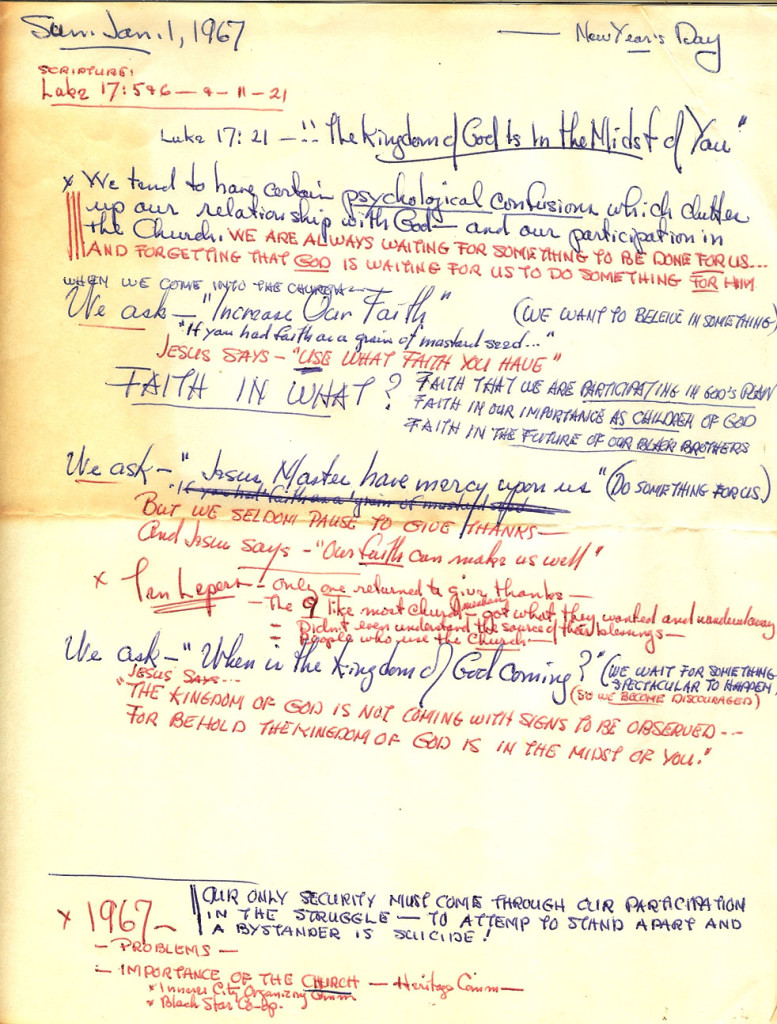 Sun. Jan. 1, 1967   – New Year's Day
Scripture;
Luke 17: 5 & 6  – & – 11 – 21
Luke 17:21 – "The Kingdom of God is in the midst of you"
xWe tend to have certain psychological confusions which clutter up our relationship with God – and our participation in the Church.  WE ARE ALWAYS WAITING FOR SOMETHING TO BE DONE FOR US…When we come into the church –
We ask – "Increase Our Faith"  (We want to believe in something)
"If you had faith as a grain of mustard seed…"
JESUS SAYS – "USE WHAT FAITH YOU HAVE"
FAITH IN WHAT?
Faith that we are participating in God's planFaith in our importance as children of GodFaith in the future of our Black Brothers
We ask – "Jesus Master have mercy upon us" (Do something for us.)
"If you had faith as a grain of mustard seed
But we seldom pause to give thanks –
And Jesus says -"Our faith can make us well"
Ten Lepers
– only one returned to give thanks –– The 9 like most church members got what they wanted and wandered away.-Didn't even understand the source of their blessings –-People who use the Church –
We ask – "When is the Kingdom of God coming?" (We wait for something spectacular to happen) (so we BECOME DISCOURAGED)
JESUS SAYS—
"THE KINGDOM OF GOD IS NOT  COMING WITH SIGNS TO BE OBSERVED —
FOR BEHOLD THE KINGDOM OF GOD IS IN THE MIDST OF YOU."
x 1967 – OUR ONLY SECURITY MUST COME THROUGH OUR PARTICIPATION IN THE STRUGGLE – TO ATTEMPT TO STAND APART AND A BYSTANDER IS SUICIDE!
-PROBLEMS-
_IMPORTANCE OF THE CHURCH – Heritage Comm_
Inner City Organizing Comm
Black Star Co-op.