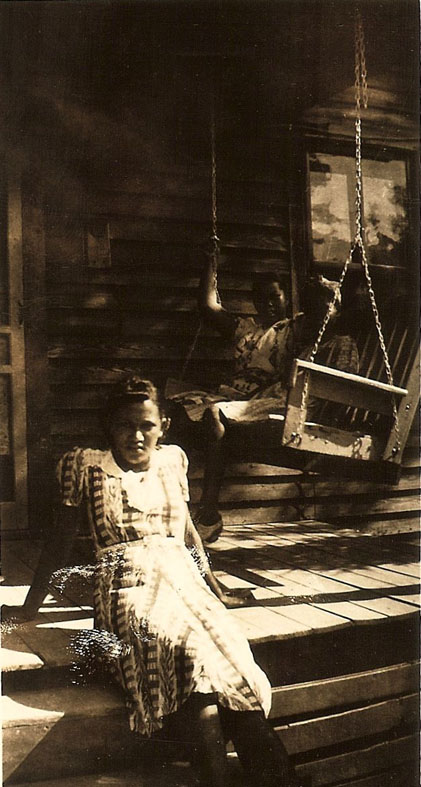 Christmas and Early  Childhood
by Juanita Cleage Martin
From the book "Memories to Memoirs"
Our Christmas trees were cedar instead of pine.  A bunch of kids would go together a few days before Christmas looking for Christmas trees.  We would sometimes find them along the roadsides, but our special place was at Keith's, across from Community Hospital before Community Hospital.   We always found a good shapely tree in that section.  I guess we didn't realize we should ask someone.  Nobody bothered, as we never seen anyone to ask.  Our decoration was ropes of tinsel, and we often strung popcorn and cotton.
My favorite toy was a big doll.  In our day, dolls were stuffed with sawdust, and their heads and arms were made of plastic, not like plastic of today.   I remember I left it outside and the rain ruined it and  made puffed splotches like blisters.   I cried, as I dearly loved this doll.  My sister Bea was the doctor.  She gathered wild purple poke berries and covered the places.  I continued to carry and play with it until it finally tore to pieces.
Juanita Cleage Martin was the daughter of my grandfather, Albert Cleage's brother, Charles Edward Cleage.  They lived in Athens Tennessee.  Juanita was born February 11, 1922. I don't know how old she was when she got the doll for Christmas but This Cuddles doll was made from 1926 through 1928 to 1940 and sold through the Sears Catalog.  Maybe this was the doll she got for Christmas. The body was cloth while the face and limbs were "composition" which was made by mixing sawdust and glue and compressing them in a mold. Composition does not react well to water.  I remember a doll sort of like this that was left over from my mother and her sister's childhood. I wonder what happened to them.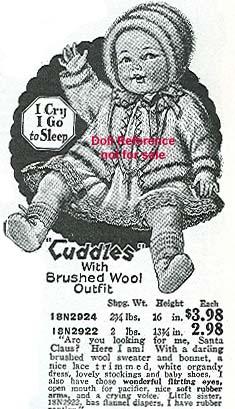 1928-1940 Cuddles or Sally-kins, 14-27″ tall, composition head, arms, legs (some limbs are rubber), cloth kapok stuffed body, molded hair, tin flirty sleep eyes, with lashes, open mouth with upper & lower teeth, tongue, mama crier, wore an organdy dress, bonnet and rubber panties, (Little Sister has flannel diapers).  Made by Ideal.