I wrote a bit about Jerry Cleage and his journey from slave to free man previously. This post updates with new information and puts him into the larger historical picture.  To do this I used records from Ancestry.com, Familysearch.com, The Athens Post on Newspapers.com, pension files on Fold3.com, family records from my private collection, articles about slavery in Tennessee online along with maps and online photographs about slavery and the Civil War. I found the books about McMinn County by Joe Guy to be helpful in providing a feel for those times.  As always click the photographs to enlarge.

In 1830, Athens McMinn County Tennessee  had a population of 500 and was a thriving community with 4 lawyers, 4 ministers, 4 doctors, 10 stores (3 more than Knoxville), 1 tavern, 1 printing office, 1 painter, 2 hatters, 2 tailors, 2 shoemakers, 2 tanners, 2 silversmiths, 1 wagon maker, 2 mills, 1 factory and a male and female academy. (Note: I found these statistics online but can't remember where. kcw)

Jerry Cleage was born into slavery in 1827 or 1831 (depending on the record) in Tennessee.  He was the son of Joe and Leah Cleage.
 In the mid-1830s, the Hiwassee Railroad received a charter to build a railroad connecting Knoxville, Tennessee and Dalton, Georgia. Construction began in 1837 but it was not completed until 1851.  In 1836, General John Wool arrived in Athens to coordinate the Cherokee Removal, later known as the Trail of Tears.

In 1841, when Jerry Cleage was about 10 years old, Pleasant M. Lane sold him to David Cleage of Athens Tennessee for $400.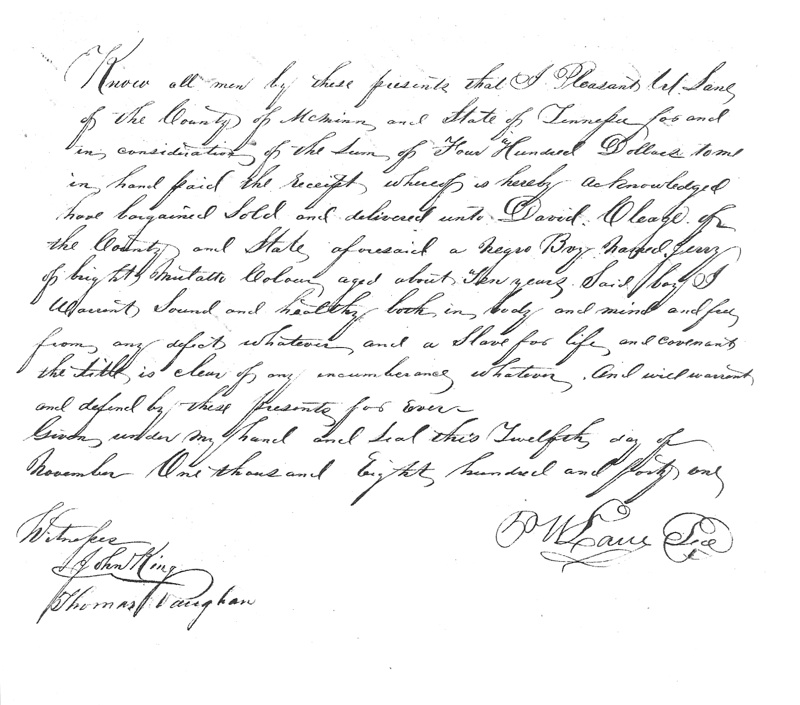 "Know all men by these presents that I, Pleasant W. Lane of the County of McMinn and the State of Tennessee for and in consideration of the sum of four hundred dollars to me in hand paid the receipt whereof is hereby acknowledged have bargained sold and delivered unto David Cleage of the county and state aforesaid a negro Boy named Jerry of bright mulatto colour aged about ten years. Said boy I warrant sound and healthy both in body and mind and free from any defect whatever and slave for life and covenant the title is clear of any encumbrance whatever. And I will warrant and defend by these presents forever. Given under my hand and seal this twelfth day of November One thousand and eight hundred and forty one."
witnesses
P.W.Lane
John King
Thomas Vaughn
In 1846 David Cleage married Martha Bridgman. Among the enslaved people she brought with her was 10 year old Charlotte Bridgman, who would later become Jerry's wife. The Cleages were among the small number of slave holders in Eastern Tennessee owning more than half a dozen slaves. The 32 slaves described in David Cleage's 1850 Slave Schedule included a 18 year old mulatto male and a 15 year old black female who may have been Jerry and Martha.  No names are given in the slave schedules.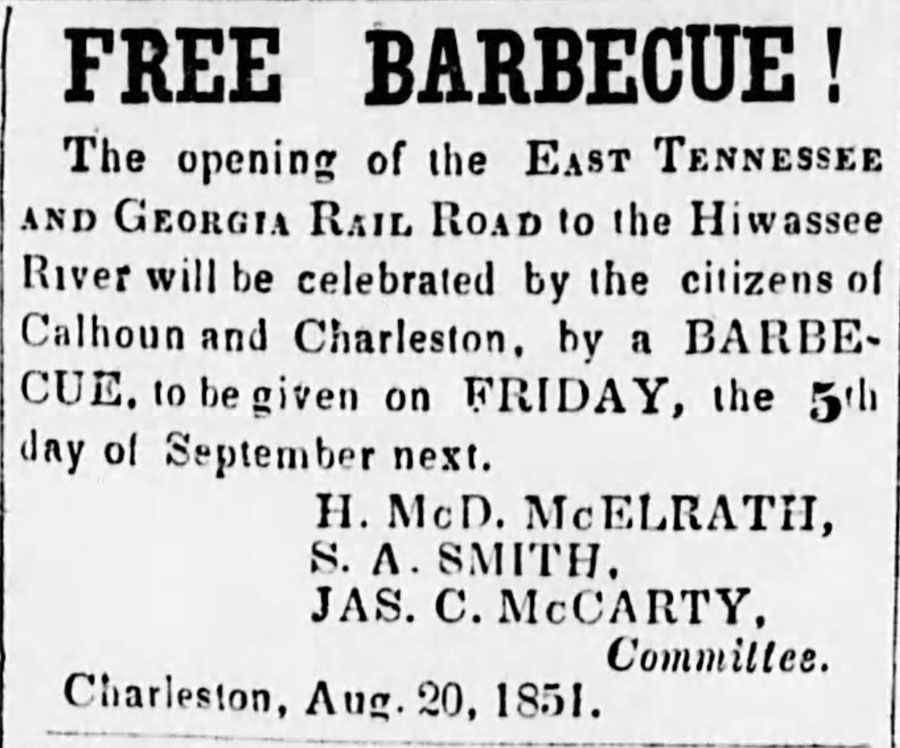 The railroad finally reached Athens in 1851, helping local businesses buy goods much quicker and cheaper. Hotels and hack rentals opened as salesmen came to town to sell their wares to local businessmen and merchants in the surrounding country.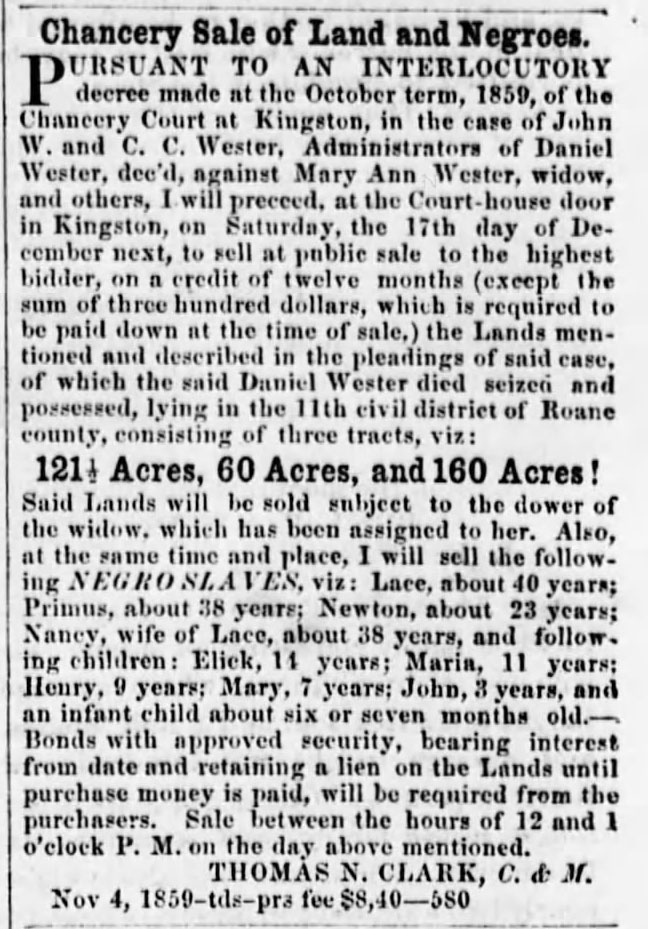 In 1860 David Cleage's plantation housed a small community including 75 enslaved people living in 8 cabins, including Charlotte and Jerry and their 4 oldest children – 12 year old Harriett, 8 year old America, 4 year old Joe and 2 year old Mary.  It is important to remember that they were part of a community and not isolated without ties.  In 1867 Charlotte testified at a widow's pension hearing that she had known Fanny Cleage Turk, another member of their enslaved community,  for over 20 years and had been present at the birth of Fanny's daughter Margaret in 1859.
 In 1861, McMinn County voted against secession by a narrow 1,144 – 904 margin. The county sent 12 units to the Union army and 8 units to the Confederate army. General Sherman was briefly headquartered at Bridges Hotel in Athens while preparing his "March to the Sea."
"The United States Colored Troops were regiments of African-American soldiers who were recruited to serve in the US Army during the Civil War. The 1st Regiment was formed in Knoxville beginning in January 1864, immediately after the Union secured Knoxville as its base in East Tennessee. Free men of color and emancipated slaves rushed to enlist. Their ranks grew to more than 1,100, but despite their crucial role in the Union victory, little is known about these men. Much of the information about their service was poorly documented, if recorded at all."  Transcription Project.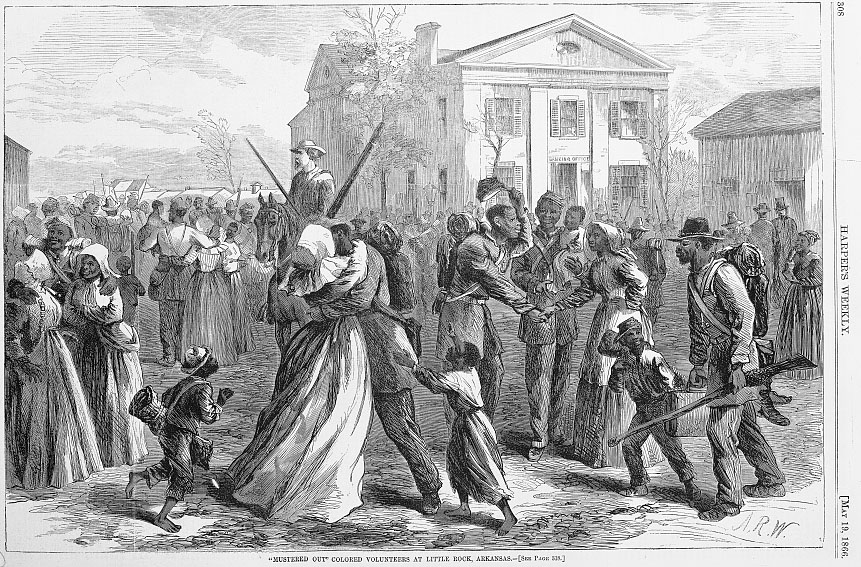 After the Civil War, the railroad made Athens attractive to investors. Textile mills, flour mills, and timber mills dominated the county's industry by the late 19th century, complemented by furniture and appliance factories in the 1920s.  A number of Jerry Cleage's white neighbors were weavers, spinners or laborers at the Woolen Mill in the 1900 and 1910 censuses.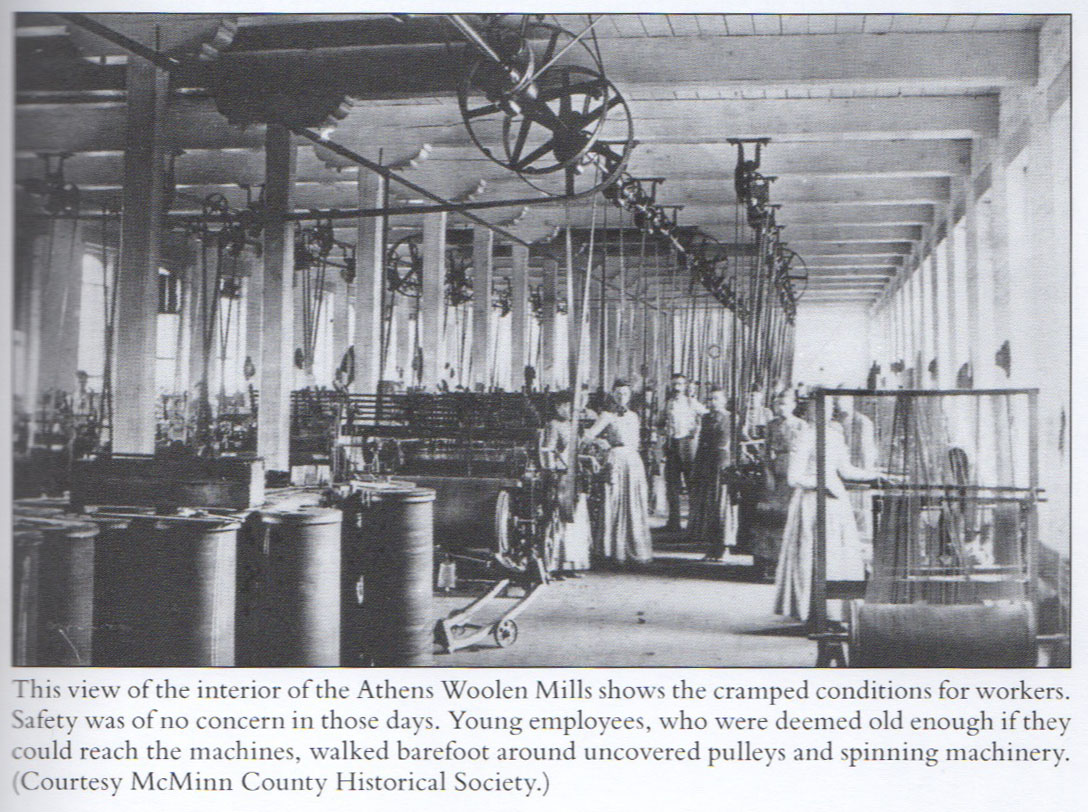 In 1870 Jerry and Charlotte lived in a rented house in Athens with nine of their children and two grandchildren. Jerry owned no property and his personal property was worth $100. None of the adults in the household were able to read or write. Charlotte kept house and Jerry worked as a laborer. None of the children were working. None of the children were marked as in school. By 1880, two of his older son had joined Jerry as laborers. Although some of the older children had established households of their own, there were still 8 children from ages 24 to 3 living in their home. Jerry and several of his older sons registered to vote in 1891.
Charlotte died between 1880 and 1897.   Jerry married Hannah in 1897. He was 65 years old and Hannah was 55. In 1900 Jerry owned his home free and clear with no mortgage. He could read but not write. He was doing day labor. I cannot find Hannah before or after the 1900 Census. In 1905, at age 78, Jerry married Jane Reynolds. By 1910 he was again a widower. He worked as a drayman, delivering goods for a grocery store.  Perhaps in a wagon like those in the photograph below.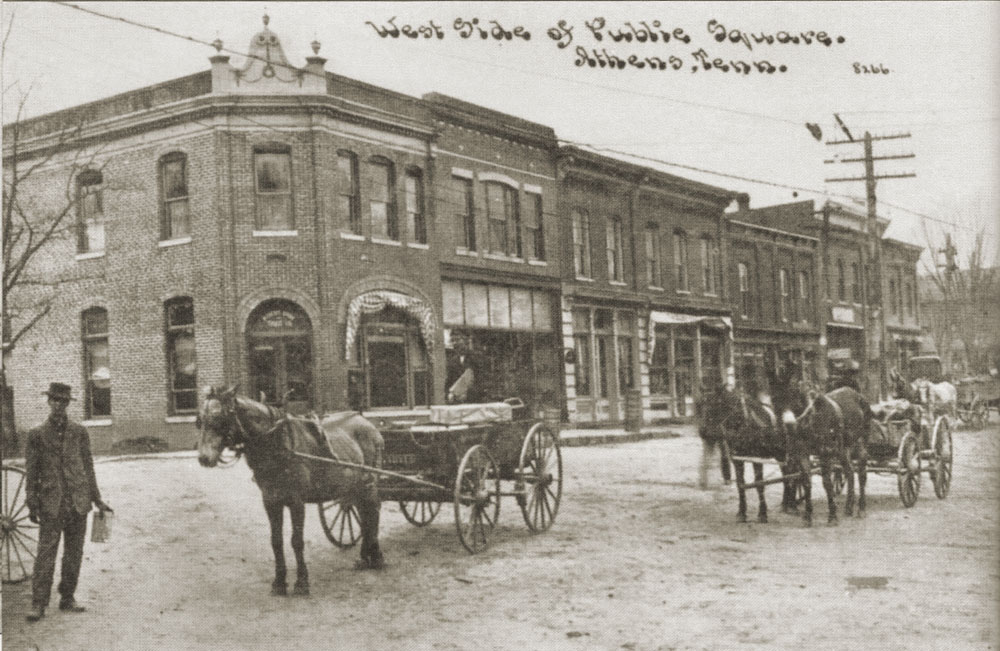 On March 28, 1919, at the age of 92, Jerry Cleage died of arterio schlerosis and pulmonary endema.  His daughter, Nellie Cleage Deadrick, was the informant and gave his parents names, where they were born and his date of birth as January 12, 1827.  He is buried in Hammonds Cemetery in Athens.
I will write about his 11 children in future posts.