Card made by me long, long ago
My family did not send out Christmas cards when I was growing up. Probably because all the relatives lived in Detroit and we saw them during the holidays. We usually had a good number of cards to display across the mantle though because my mother was a teacher and she brought home all the cards her students gave her. I did make some cards in elementary school that I found in my mother's things. My grandparents aka Nanny and Poppy received cards from friends they kept in touch with from the days they lived in Montgomery. Often these were photograph cards. Because they kept the past years cards in a brass Chinese bowl on a table in the front room, under the table actually, I watched some stranger kids grow up from year to year.
When I grew up and moved out of Detroit I started sending and receiving cards. When we didn't have a mantle we displayed them across the top of the bookcase that ran across one side of the living room. The years two of my daughters had paper routes we had lots of cards. For some reason I've saved these along with the family and friend cards. Every year when I go through them I think I should glean these but I don't.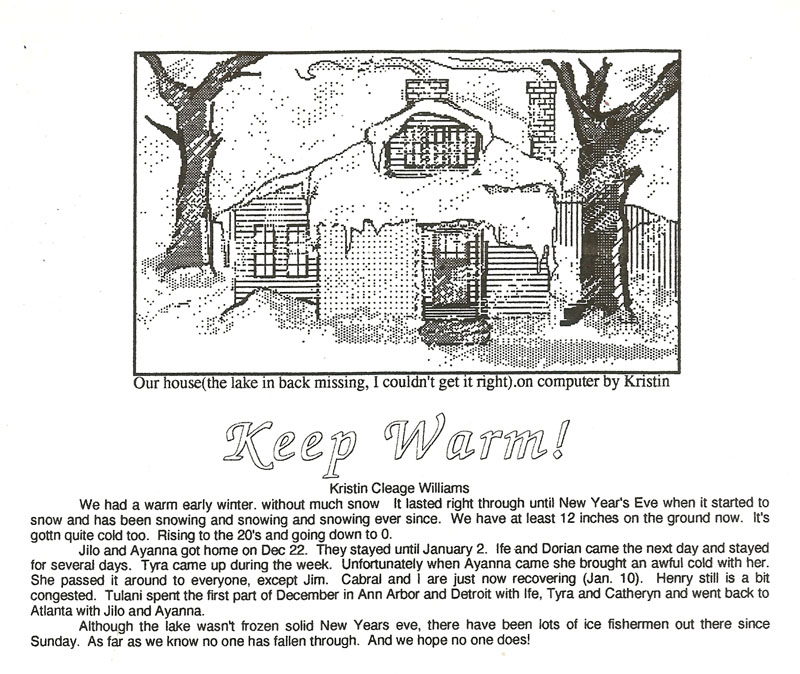 For five or six years when we were homeschooling our family put out a monthly newsletter. It gave the kids a chance to use their writing skills and gave the family and friends a chance to see that they weren't growing up illiterate. We would add a Christmas message on the back page. That is about as close to a Christmas letter as I got.
The most meaningful card I've saved over the years is the last one my mother-in-law, Theola Davenport Williams, sent me the Christmas before she died. It included a letter on the inside. I re-read it every holiday season. I wish we had traveled to St. Louis that season to visit but we didn't.