This is my second photo for the February Photo Collage Festival and the Family History Writing Challenge, click on the link to see the full collage. I didn't put the actual picture in the collage because it is a Sepia Saturday entry. The prompt is in the bottom row towards the center. It shows some young telegraph boys with their bikes in front of part of a sign saying "Telegraph". You can click the collage to enlarge it.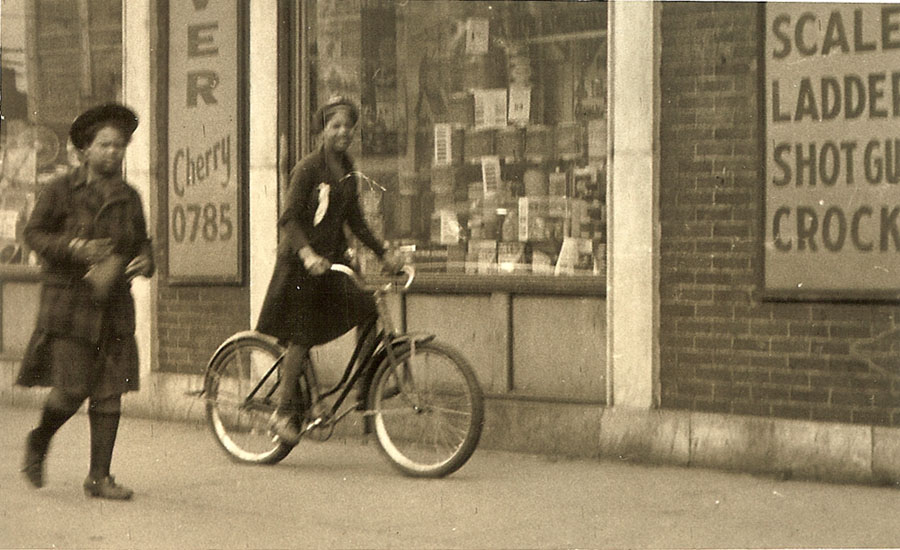 Here we have a rather blurry photograph of two mystery girls and a bike. It was in my box of Cleage photographs but I don't recognize them as relatives. Sometimes the Cleage photographers took street photos of random people so perhaps this is one of those. Looks like they are on a big street passing a store of some kind. Looking in the window I seem to see a fan over the shoulder of the walking girl. The partial sign seems to be for a hardware store advertising "scales, ladders, shot guns and crock(ery)".
From looking at the clothes and shoes the girls are wearing and the lettering on the signs, I think it was taken in the mid to late 1940s. I am open to more informed opinions on that. Just a minute while I locate the original photograph so I can describe it. The paper this is printed on is thick. There are some matte photos printed on thick paper. This one is glossy, there seems to be a glossy layer added. It measures 5″w x 3.5″h. Of course there is no identification on the back.
While looking for the photo to describe it I came across several photos that will be excellent for future SepiaSaturday posts. I even found a nice birds eye view shot of two girls riding a bike but I will have to save that for the inevitable next bicycle prompt.
For a more personal look at bikes and biking read my old Sepia Saturday post Biking at Old Plank Road, 1962.