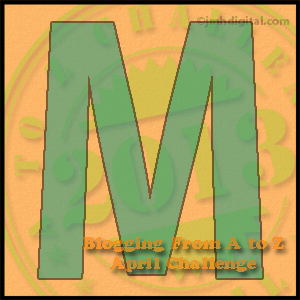 This is my thirteenth post for the April A-Z Challenge.  M is for music, and in this case, the music of my second cousin, Hubert Averette. We never knew each other because my grandmother, Pearl's, and her brother, Hugh's families were out of contact for over 80 years.  When Hubert's son, Alex let me know  that there was a 45 with two songs that his father both wrote and sang, available on Ebay, I decided to buy it. My sister and I listened to it on her record player and enjoyed it.
Hubert was a teacher by profession.  Although his love of music didn't lead to a musical career, he didn't let that stop him from performing and enjoying music. His son Alex described the making of the record and his father's love of music to me and I want to share the story in his own words. At the end of the post, you can listen to both of the songs.
My Dad was a prolific songwriter and singer. He even tried a shot at becoming a rock star in the early '70s. He could sing just like Elvis and he was a huge fan but, on those two songs, 'Another Way' and 'There's a Time and a Place for Everything', he was using his own singing voice.  He played piano and guitar, but not on that record. The band that provided musical accompaniment and backup vocals on my Dad's record was only hired for the record. My father wrote the two songs on the 45. He had picked those out from 24+ songs he had written up to 1970.
The band that backed up Dad at the nursing homes and concert halls was none other than our family. We sang in nursing homes for free, music halls for donations in late '77 and raised a total of $1,000 for the heart fund research by doing it.  Dad did vocals and guitar, Mom played the piano, I played the drums, and my sister played the rhythm sticks and the xylophone.  We had such fun and enjoyment doing this together as a family; my sister and I cherish these memories, as well as many others growing up. My Mom and Dad were such wonderful loving parents and friends to us. My Mother was such a good caring person and my father was such a brilliant, talented man, the world missed out on it, but our family didn't, that's for sure!
There's A Time And A Place
Another Way