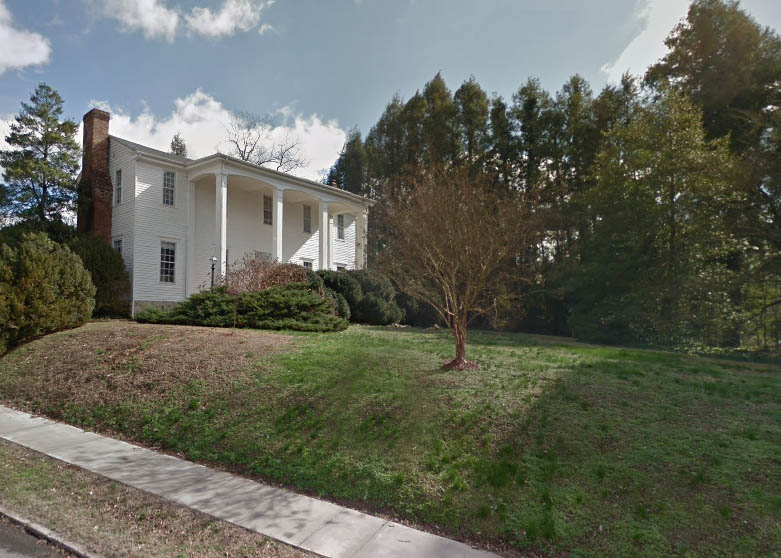 Deposition "C"
Case of Katie Cleage
March 1, 1890
Chattanooga, Hamilton, Tennessee.
Before me, R. C. Getchell, a special examiner of the Pension Office, personally appeared Katie Cleage, who being by me first duly sworn to answer truly all interrogatories propounded to …
That she is 41 years of age; that her post office address is No. 519 Cedar St., Chattanooga, Tenn.
********
I am the widow of Philip Cleage, the soldier. I just know Philip was a soldier and belonged to the first U.S. H Artillery. I don't know what company he belonged to.
I was married to Philip Cleage before the war – I was about 16 years old when we got married. We were married at Athens, Tenn., and my old master, Alex. Cleage, married us. My master told me that I must marry one of the home boys, and so I married Philip. We were married at our master's house, right in the porch. My master read a passage from the Bible and then told us we were man and wife. There was no one present at the marriage, except us two and the old master. I disremember whether the war was going on or not at the time we were married. It was long before Sherman's men came along. I was 13 years old when my master bought me, and I guess it was about three years after that when we got married. I lived with Philip before we got married, and that's why we came to get married. Cleage found out that I had been living with Philip and then he made us marry. I had just one child before we married and this child was born dead. I had another child in the next year after our marriage and this one lived but one day. Philip was living at the time this second child died. This was all the children I ever had by Philip. I have had two children since my husband, both of them are now living. These children are both illegitimate, as I have never married since Philip died.
I married Philip before he was mustered in the army. We had been married a good while before he enlisted. We lived and cohabited together as man and wife from the time of our marriage until he enlisted. We lived with Mr. Cleage all the time and we were both his slaves. Mr. Cleage is dead, but his wife is still living.Philip had right good health from the time of our marriage to his enlistment. He went into the army and died a soldier. He died in hospital, of smallpox. I didn't know where the hospital was located. I was with Philip when he first come out with small pox. I was in camps with him when he broke out with smallpox. It was here in Chattanooga at his camps. I sewed in the regiment, and went to him and slept with him every night from the time the regiment came to Chattanooga until he broke out with smallpox. He was taken sick, and Dr. Wright, the surgeon of the regiment, said he had smallpox. I seen him all broken out with smallpox. After I gave him his tea, he broke out with smallpox, and was then sent to the hospital and I never saw him live any more. They sent me word that he was dead shortly after he was taken to the hospital. I wanted to go to the hospital with Philip; but the doctor said I mustn't as I would die too if I went. He had the black small pox, so it was said. I had the (looks like: varalid) just after Philip died. I was vaccinated long before I married Philip.
(Question: were people being vaccinated for small pox on plantations in the 1800s?)

The children I have had since my husband died are both living. One of them will be seven the first of next June, and the other five on the first of next April. I have had sexual intercourse with but one man since my husband died, and he is the father of these two children. This man is a married man. He is a colored man, and has a wife living. He was not married at the birth of the first child. I had no intercourse with this man after the birth of the second child. I had the man arrested and tried to get him to support the children and every once in awhile he would bring me some money. This man's name is John Washington and he lives here in Chattanooga. No, I was never married to Washington. I had him arrested for bastardy. I never lived with him at all. I cohabited with him just long enough to have these two children. They put him in jail when they arrested him; and I didn't know what they did with him. I swear positively that the only man I ever married was Philip Cleage. I have never got any bounty or back pay, but have made application for both.
I was working here in Chattanooga when my husband's regiment came here. My husband heard of my being here, came and got me and took me into camps, and I went and stayed with him every night until he was taken down sick. No objection whatever was made to my going into camp and living with my husband. I "served out" every day, but did all his washing.
I was a seamstress at my master's house, but I slept with Philip every night. They gave us a room in which to sleep. Philip was employed on the farm and I in the house.
In camp, my brother and his wife and Philip and I staid together in one tent, occupying two bunks. My brother, Abe Cleage, went to Texas years ago, and I don't know where he is now. The last I heard of his wife, she was in Rome, GA. I haven't heard from her for a good many years. John Rowland and Ike Chilton know that we lived and cohabited together here as man and wife. I have lived here since the war. Everybody knows I haven't remarried.
I was engaged to be married to Washington, but the marriage was broken off. This was why I had two illegitimate children by him. Both children were born before he married another woman.
I have understood the questions asked me, and the answers to them have been exactly recorded in this deposition.
Tomas Giffe Katie Cleage X (her mark) N.C. Gelchell
*************
You can read some of Katie's brother Abe's story here Abraham and Amanda Cleage I have learned much more about them since receiving their pension files and I will be writing about them in the future.
I found the information for this post in Katie Cleage's Civil War Pension file, on ancestry.com and familysearch.org.
For links to the other posts in this series, click this link – Katie Cleage's Pension Hearing