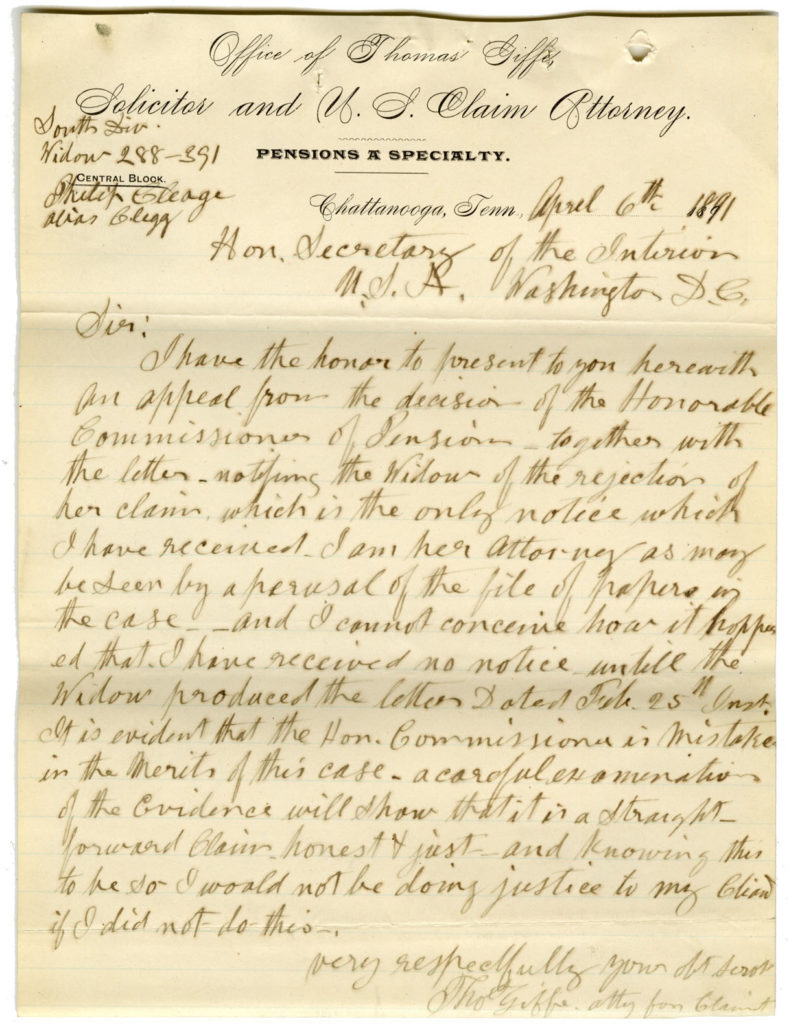 Office of Thomas Giffe,
Solicitor and U.S. Claim Attorney
Pensions A Specialty
South Div.
Widow 288-391
Philip Cleage Alias Kleg
Chattanooga, Tenn., April 6th 1891
Hon. Secretary of the Interior
U.S.A. Washington D.C.
Sir;
I have the honor to present to you herewith an appeal from the decision of the Honorable Commissioner of Pensions – together with the letter – notifying the widow of the rejection of her claim, which is the only notice which I have received. I am her attorney, as may be seen by a perusal of the file of papers of the case, and I cannot conceive how it happened that I have received no notice until the widow produced the letter dated Feb 25th last. It is evident that the Hon. Commissioner is mistaken in the merits of this case. A careful examination of the evidence will show that it is a straight forward claim, honest and just. And knowing this to be so I would not be doing justice to my client if I did not do this.
Very respectfully your obt svt.
Thomas Giffe Atty for Claimant
*******
I found the information used in Katie Cleage's Pension file.
For links to the other posts in this series, click this link – Katie Cleage's Pension Hearing