Alan designed this Sepia Saturday Logo. I changed out his photos with some of my father. You can see the original and other posts featuring 100 (or not) by clicking the logo –>
In 2009 Alan Burnett and Kate Mortensen founded Sepia Saturday. This week we celebrate it's 100th week of existence. I contributed my first post to
Sepia Saturday
#48 on November 7, 2010. Since then I have usually been a "themer" and enjoy coming up with something from my family photograph collection related to whatever theme Alan comes up with each week. I also enjoy seeing what others come up with. I have chosen to celebrate the occasion by posting 100 photographs of my father, who would have been 100 years old this year.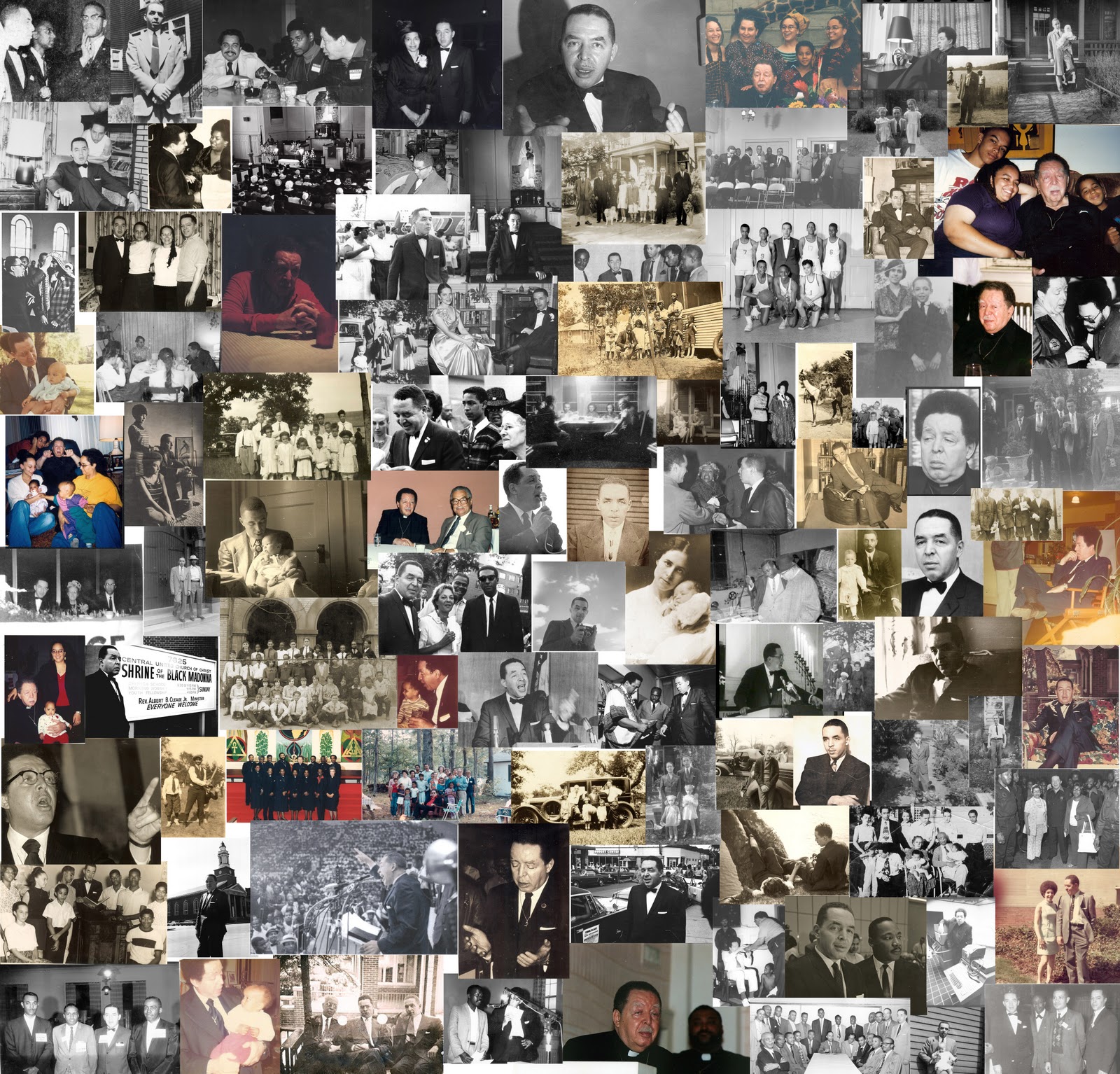 Obituary from: The New York Times
____________________________________________________________
Albert Cleage is Dead at 88; Led Black Nationalist Church
Published February 27, 2000
Bishop Albert B. Cleage, who after the urban riots of the 1960's built his Detroit church, the Shrine of the Black Madonna, into an important center for black theology and political power, died on Feb. 20 in Calhoun Falls, S.C. He was 88.
Bishop Cleage died while visiting Beulah Land, his church's new farm, where he planned to raise food for the needy and give city youths peaceful summer vacations.
The bishop, who changed his name in the early 1970's to Jaramogi Abebe Agyeman, presided for more than three decades at the Shrine of the Black Madonna, originally a Congregational church. The change came in the late 1960's.
There were other black secessionist churches but Bishop Cleage's became one of the biggest and most influential emphasizing black interpretations but retaining some traditional Protestant teachings.
Bishop Cleage was also drawn to politics. in 1973, Black Slate Inc., his political organization, helped Coleman A. Young become the first black mayor of Detroit, and the bishop was important in the careers of United States Representative Carolyn Cheeks Kilpatrick, Democrat of Michigan; former United States Representative Barbara-Rose Collins; and blacks who ran for smaller offices.
"He taught me the importance of organizing," Ms. Kilpatrick said, "and he created networks of political activists that continue to have a profound impact on Detroit's political landscape."
Bishop Cleage became a focus of national attention during the 1968 Detroit riot, when 43 people were killed, and in the turbulent years afterward. Splitting with both the white power structure and more moderate black leaders, he emphasized black separatism in economics, politics and religion.
"The basic problem facing black people is their powerlessness," he said. "You can't integrate power and powerlessness."
Trying to counter what he saw as white domination of religion, Mr. Cleage espoused a gospel of black nationalism. He installed a larger-than-life painting of a black Madonna holding a black baby Jesus, radical for its time, and preached that Jesus was a black revolutionary whose identity as such had been obscured by whites.
"That was the beginning of a whole new religious iconography" said Menelik Kimathi, chief executive officer of the Shrine of the Black Madonna. Mr. Kimathi, who joined a shrine youth group 30 years ago, added, "I think his legacy will be that he founded black liberation theology, the idea that the church could be more relevant to the day-to-day concerns of the community."
The Rev. Jim Holley, pastor of Little Rock Baptist Church in Detroit, said: "He brought a black consciousness to the church community like it never had been brought before. And it translated into politics."
In 1968, Life magazine called Bishop Cleage one of "the men who are speaking to black America," along with Jesse Jackson, Julian bond, Eldridge Cleaver and Dick Gregory.
The bishop was national chairman of the Black Christian Nationalist Church, an umbrella organization for similar churches, and he wrote "The Black Messiah" (1969) and "Black Christian Nationalism"(1972).
Albert Cleage was born in Indianapolis on Jun 13, 1911. his physician father moved the family to Detroit, and in 1937 the son received a sociology degree from Wayne State University. He received a divinity degree from Oberlin College, then served churches in Lexington Ky.; San Francisco; and Springfield, Mass. In 1951, he became pastor of St. Mark's Community Church in Detroit, and two years later he formed the Central United Church of Christ, which later became the shrine.
Though he had believed in integration — some of the churches he served were racially mixed — Bishop Cleage came to despair of the hope that whites would ever willingly help blacks advance. He also befriended Malcolm X, the Muslim leader, who had Michigan roots.
Bishop Cleage's vision of a church reemphasized social service programs reached out to young people and marched for civil rights. He organized black-owned businesses like grocery stores and bookstores, and built hundreds of units of housing.
All this activity made him frightening to many whites.
"When we take over, don't worry," he once responded. "We'll treat you like you treated us."
He later founded other shrines, including major ones in Atlanta and Houston. Today, Mr. Kimathi said, the church has about 50,000 members nationally.
In the 1970's, Bishop Cleage backed out of the national spotlight to concentrate more on church programs and working with young people. In the late 80's and much of the 90's, he lived in Houston, then returned to Detroit.
Bishop Cleage married Doris Graham in 1943; they divorced in 1955. His survivors include their two daughters, Pearl Cleage of Atlanta and Kristin Williams of Idlewild, Mich.; three sisters; a brother; six grandchildren, and one great-grandchild.