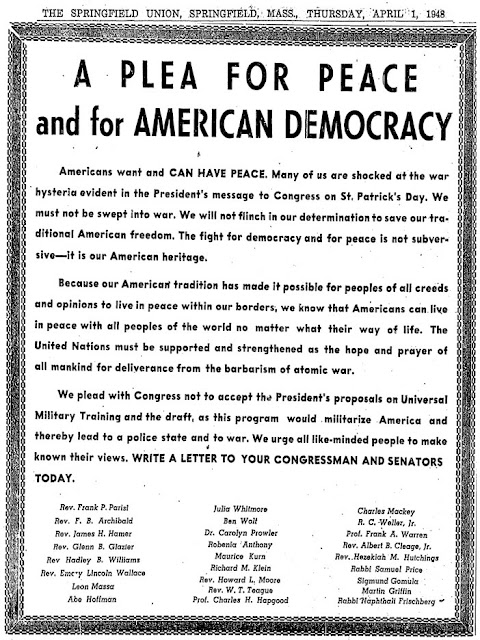 A PLEA FOR PEACE and for AMERICAN DEMOCRACY
Americans want and CAN HAVE PEACE. Many of us are shocked at the war hysteria evident in the President's message to Congress on St. Patricks Day. We must not be swept into war. We will not flinch in our determination to save our traditional American freedom. The fight for democracy and for peace is not subversive – it is our American heritage.
Because our American tradition has made it possible for peoples of all creeds and opinions to live in peace within our borders, we know that Americans can live in peace with all peoples of the world no matter what their way of life. The United Nations must be supported and strengthened as the hope and prayer of all mankind for deliverance from the barbarism of atomic war.
We plead with Congress not to accept the President's proposals on Universal Military Training and the draft as this program would militarize America and thereby lead to a police state and to war. We urge all like-minded people to make known their views. WRITE A LETTER TO YOUR CONGRESSMAN AND SENATORS TODAY.
Rev. F. B. Archibald Ben Wolf R.C. Weller, Jr.
Rev. James H. Hamer Dr. Carolyn Prowler Prof. Frank A. Warren
Rev. Glenn B. Glazier Robenia Anthony Rev. Albert B. Cleage, Jr.
Rev. Hadley B. Williams Maurice Kurn Rev. Hesakiah M. Hutchings
Rev. Emory Lincoln Wallace Richard M. Klein Rabbi Samuel Price
Leon Massa Rev. Howard L. Moore Sigmond Gomula
Abe Hoffman Rev. W.T. Teague Martin Griffin
Prof. Charles H. Hapgood Rabbi Naphthali Frischberg