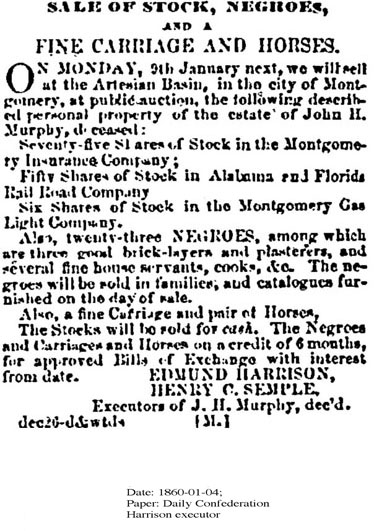 On Monday, 9th January next, we will sell at the Artesian Basin, in the city of Montgomery, at public auction, the following described personal property of the estate of John H. Murphy, deceased:
Seventy-five Shares of Stock in the Montgomery Insurance Company:
Fifty Shares of Stock in Alabama and Florida Rail Road Company
Six Shares of Stock in the Montgomery Gas Light Company.
Also, twenty-three NEGROES, among which are three good brick-layers, and plasters and several fine house servants, cooks, &c.  The negroes will be sold in families, and catalogues funished on the day of sale.
Also, a fine Carriage and pair of Horses.
The Stocks will be sold for cash.  The Negroes and Carriages and Horses on credit of 6 months, for approved Bills of Exchange with interest from date.
EDMUND HARRISON,
HENRY G. SEMPLE,
Executors of J.H. Murphy, dec'd.
dec 26 – d&wtds           [M.]
Edmund Harrison once owned my Great Great Grandmother Eliza Williams Allen and her mother Annie Williams.  The article that confirmed that information is here "She was owned before the war by Colonel Edmund Harrison of this county." I found this article on Genealogy Bank.