These are my feet in my work boots. I wore them to milk the goats and work in the garden when it was muddy. It must have been muddy because I have my jeans tucked into my socks. I don't remember any stripped socks but there I am wearing some. The rocking chair used to rock on Nanny and Poppy's back porch.
In 1978 we lived in rural Simpson County, Mississippi with our 4 children, some chickens and some goats. While looking for a photograph of my feet in my work shoes I came across this batch of negatives which included a photo of my shoes.
In row one, we have my friend Teresa's son, Palo, holding his baby sister. The baby's father is holding her in the next. I cannot remember their names right now. Picture three is my family plus Palo. Last are baby and father again.
In row two, I'm outside with my three oldest daughters, Jilo, Ife and Ayanna. Next two photos are of our friend Robert with his and Ruth's two children. Robert got us started with milk goats and rabbits. He had a very good herd of milk goats himself. Last is the photo of my shoes.
In row three, we start with Robert and children again. The ghost photo has their two and our three oldest. Next, my midwife, Ruth, is reading to my daughter, Ayanna, who she helped to deliver. Last, I'm reading while holding baby Tulani.
The three older girls are in the side strip with the baby crib my mother and her siblings used and all of my children used. Except for Ife who slept in a dresser drawer. You can see baby Tulani best in the bottom row dribbling milk. The house was built on stilts and was about 10 feet up in the air. I do not know why they built it like that because it was in tornado country with no water to flood anywhere nearby.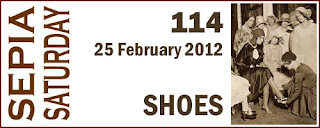 For more photographs click below. Some will be shoe related and some will not.