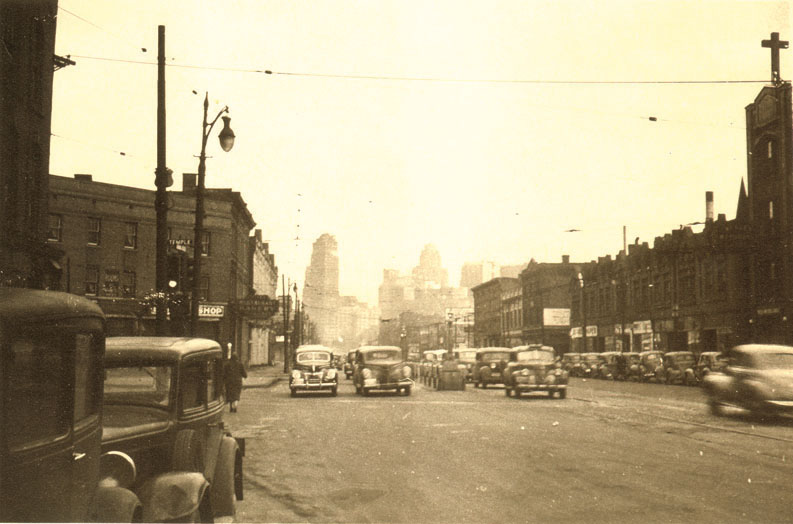 When I saw the prompt for this weeks Sepia Saturday, I knew that I wanted to use this picture if I hadn't already used it.  It comes from my Cleage photo collection and my father or one of his brothers took it around 1939 – 1940, judging by the cars.  After posting it, I decided to look and see what was going on with my Cleages around then. There was an article that mentioned my Grandfather, Dr. Albert B. Cleage Sr. speaking at a meeting at New Light Baptist Church. This was part of a larger column in the Chicago Defender devoted to Detroit happenings.
Ethel Waters was performing in "Mamba's Daughters". During this same time my cousin, Sylvia Vincent played the part of one of Mamba's daughters at a young age, she was 8. While I was looking for a picture of Ethel Waters, I noticed that the author, Dubose Haywood had written the book and also written "Porgy and Bess" and, surprising to me, one of my favorite books of all times, "The Country Bunny" who is choosen over all the big, rich fast bunnies to be one of the Easter Bunnies and she has trained her 21 little bunnies to take care of the house in her absence and does a stellar job of being brave and steadfast and true to the end.
Marian Anderson was singing in the Masonic Temple, which was just a few blocks up Temple from the corner in the photograph. This was the year that the Daughter's of the American Revolution refused to let her sing to an integrated audience in Constitution Hall and so she ended up preforming on the steps of the Lincoln Memorial for 75,000 people and to untold millions via radio.
Child prodigy, pianest Phillippa Shuyler was to preform to a thousand children at Bethel A.M.E. church.  There was a lot going on in Detroit at the end of 1939 and I never would have noticed if I hadn't been looking for something to relate to the photograph of Grand River Avenue and Temple.  The heading is a photo from Google Maps of that corner as it looks today.