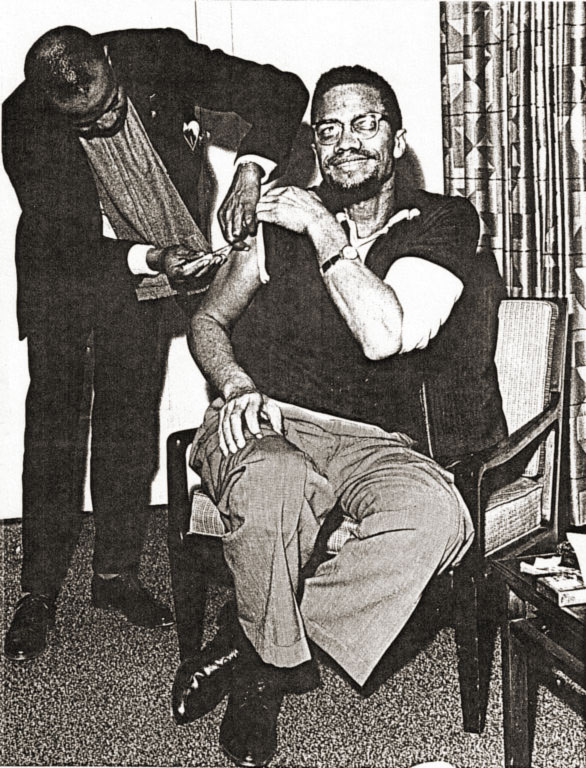 This is a photograph of my uncle Dr. Evans giving Malcolm X a shot for exhaustion when he arrived in Detroit in 1965 to speak at an Awards program, after his house had been firebombed. I was a freshman at Wayne State University. I did not go to hear him this time. I can remember no good reason. I had some school work?  My father, Rev. Albert B. Cleage Jr. gave the invocation before Malcolm X's speech.
My sister Pearl did attend and she remembers it like this:
"I did go to this speech. Malcolm looked exhausted and worried. We were worried for him and for his wife, Betty, and their children. When things like that fire bombing happened, they always made me worry about my father. being the child of an activist parent makes you proud, but scared for their safety. whew. lots of memories came with this one…"
My friend, historian Paul Lee, contextualizes the photograph of Malcolm X getting a shot below in an email dated Jan. 25, 2004.
Click on the photographs to enlarge. Ford program scans courtesy Christopher Chatman.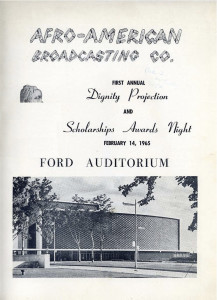 Dear Kris,
As promised, please find attached a scan of an image of your aunt Gladys's late husband, Dr. E. Warren Evans, administering a sedative to Malcolm X during the early afternoon of Sunday, 14 Feb. 1965.
It was shot in Malcolm X's room at the old Statler Hilton Hotel when he visited Detroit to deliver what turned out to be his "Last Message," as the posthumously-released long-playing record of it was titled by attorney Milton Henry, his good friend, who taped it.
At the time, Henry was the president of the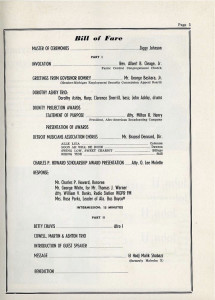 Afro-American Broadcasting and Recording Company and, along with his brother Richard Henry, was a leader of the militant Group on Advanced Leadership (GOAL).   He invited Malcolm X to Detroit to receive an award at the "First Annual Dignity Projection and Scholarship Awards" ceremony, which was held at Ford Auditorium on the city's waterfront.
You will note that the exhausted-looking Malcolm X is wearing an open-neck sweater instead of his traditional white shirt and thin straight tie.   This is because his home had been firebombed by Elijah Muhammad's Nation of Islam at around 2:45 that morning and, as he noted in his talk, most of his clothes had been damaged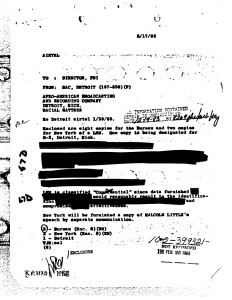 by the smoke.
Malcolm X, who was then the president of the black nationalist and Sunni Islamic Muslim Mosque, Inc.  (MMI) and chairman of the pan-Africanist Organization of Afro-American Unity (OAAU), was assassinated almost precisely one week later.
HOOVER'S HANDICAP
When Malcolm X made his last visit to the city, the Detroit FBI office decided to let the local spooks do the heavy lifting.   They had at least one good reason for doing so:    The cops had the advantage of using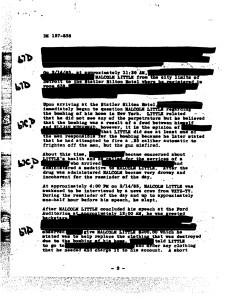 "black" undercover agents and Malcolm X, unlike Dr. King, usually moved in all-"black" circles.
Of course, the anti-"black" Hoover refused to hire and
train "black" agents until the escalating pace of the civil-rights and black-power movements, along with pressure applied by his intelligence-hungry superiors,  forced him to do so.d
CALLING DR. EVANS, CALLING DR. EVANS
Following are excerpts from the 17 Feb. 1965 summary of the report made by local police, which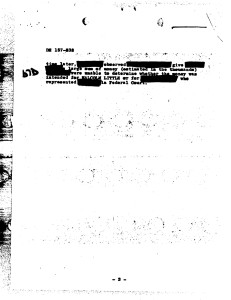 they provided to Special Agent Thomas J. Robinson, who handled "racial matters," including black nationalists.   Presumably, it was Robinson who was responsible for surveilling and attempting to undermine your father, who was then still known as the Rev. Albert B. Cleage, Jr.
It is unclear WHICH department provided the intelligence–that is, the city or state police–because the Freedom of Information and Privacy acts (FOI/PAs), which compel the release of government documents, also allow certain "exemptions," including,  amazingly, "personal privacy"–which protects their officials, agents and snitches from being revealed–and "confidential" or "national security" sources, such as the police and other intelligence agencies:
"On 2/14/65, at approximately 11:30 AM, [passage withheld on confidential-source grounds, but it refers to the Detroit Police Department, which escorted]  MALCOLM LITTLE from the city limits of Detroit to the Statler Hilton Hotel where he registered in room 638…
"About this time, [name withheld on personal-privacy grounds, but MILTON HENRY] became concerned about LITTLE's health and he called for the services of a  [name withheld, but DR. EVANS,] who arrived [passage withheld] and administered a sedative to MALCOLM LITTLE.   After the drug was administered MALCOLM became very drowsy and incoherent for the remainder of the day.
"At approximately 4:00 PM on 2/14/65, MALCOLM LITTLE was awakened to be interviewed by a news crew from WXYZ-TV.   During the remainder of the day and to approximately one-half hour before his speech, he slept" (SAC [Special Agent in Charge], Detroit FBI [by Special Agent Thomas J. Robinson] airtel [air telegram] to Director, FBI, "Afro-American Broadcasting and Recording Company, Detroit, Mich.;  Racial Matters," Feb. 17, 1965, in FBI headquarters file on Malcolm K. Little, 100-399321-not recorded,  but after serial 228.
By the way, this report tends to confirm that, several hours before Malcolm X spoke (around 10:00 that evening), the effects of the sedative had abated.  After all, he couldn't have given an interview to Channel 7 that afternoon if he was still "incoherent."