I had my DNA tested at 23andMe in 2011.  I wrote about it here.  There were no big surprises in the results. No Native American showed up, despite everyone being sure there was some Indian in there somewhere. I haven't found any new cousins, although they provide plenty of possible cousins, we haven't been able to prove any of the connections.
I have found it interesting to compare results with people I already know are related to me.  This chart shows the number of segments of DNA I share with each person and the % of DNA we share.  The pink is MtDNA and the blue is the YDNA. It's also interesting to see what DNA cousins from the same line share with me and with each other.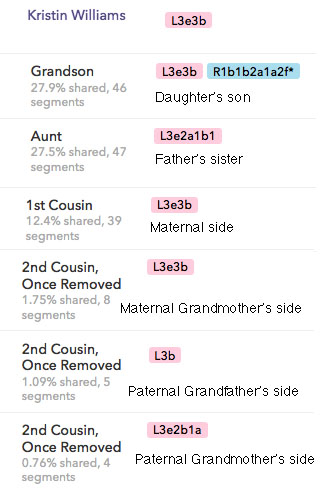 When I first got my results, they did not give me as much detail as there is available in the diagram below.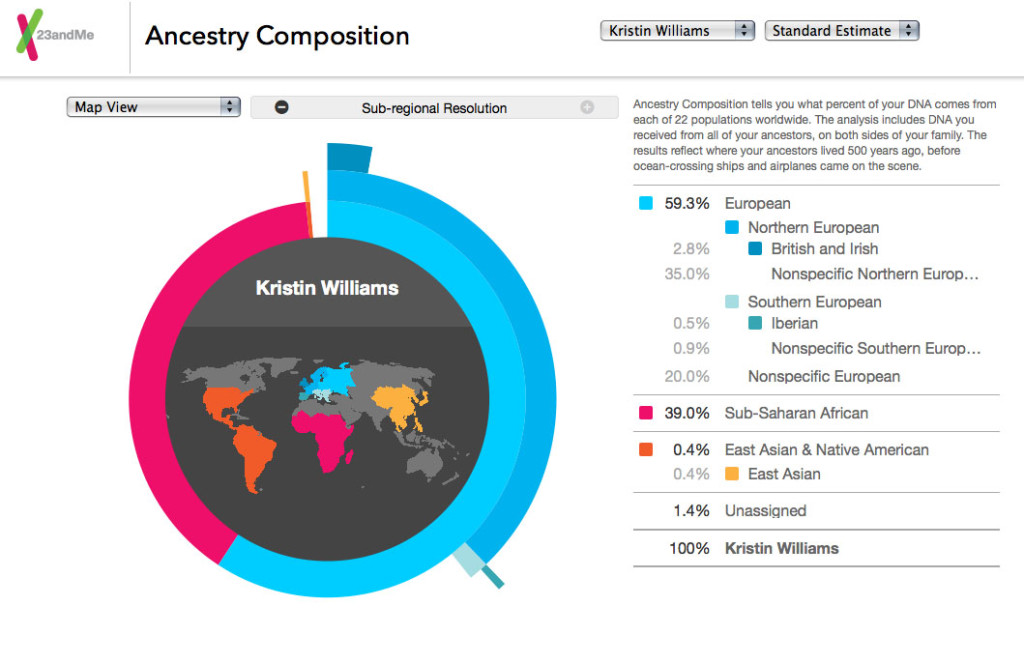 After I received my 23andMe results, I sent the extracted, zipped DNA file to Douglas McDonald (jdmcdona@illinois.edu) who analyses the results and sends a more specific interpretation via email. He does this at no cost.  You can see mine below.  I wondered what a Centromere was and looked it up and found that a centromere is a region on a chromosome that joins two sister chromatids. 
Each line represents a different chromosome. You recieve half of each chromosome from each of your parents, that is why there are sometimes different colors on top and bottom. On each one I have bits that originated with ancestors from Africa, Europe and North Africa.  The geographic areas are color coded with red for Europe and blue for Africa and violet for North Africa, etc. The dark brown parts are unidentified.  The light brown parts are links between segments of the chromosome.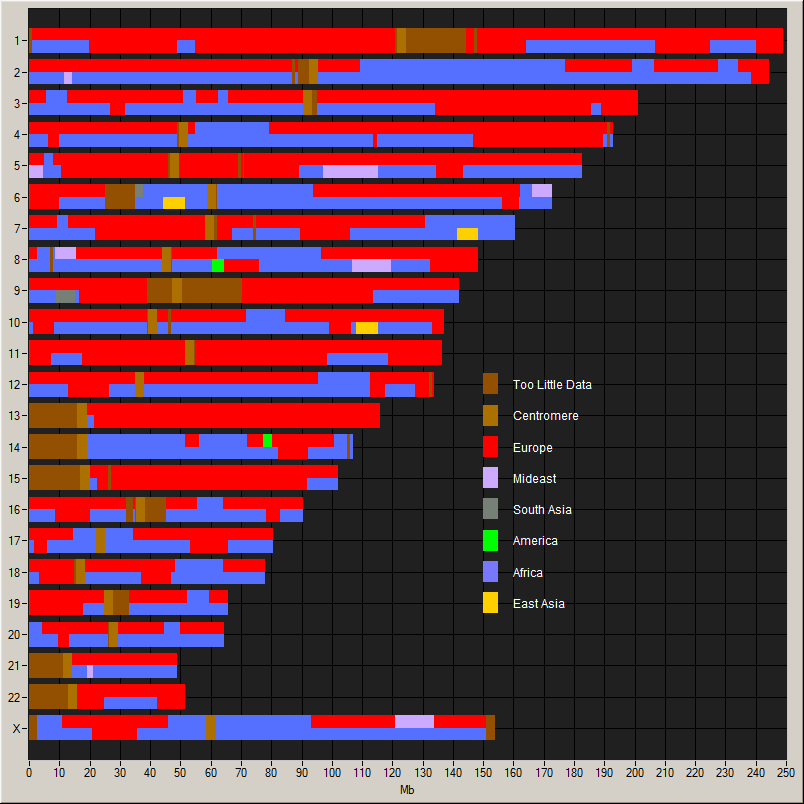 Doug McDonald wrote the following, along with the above:
Most likely fit is
54.8% (+-  1.3%) Europe (all Western Europe)
  8.3% (+-  1.9%) Mideast (all North Africa)
36.9% (+-  0.7%) Africa (all West African)
The following are possible population sets and their fractions, most likely at the top
Irish= 0.531 Moroccan= 0.103 Mandenka= 0.366 or
English= 0.561 Mozabite= 0.062 Mandenka= 0.377 or
Irish= 0.557 Mozabite= 0.067 Mandenka= 0.376 or
Irish= 0.528 Moroccan= 0.115   Yoruba= 0.357 or
English= 0.559 Mozabite= 0.072   Yoruba= 0.369 or
Irish= 0.555 Mozabite= 0.077   Yoruba= 0.368
The Asian and American on the chromosomes are small and weak and likely not real. The North African may or may not be real; if real, its likely smaller than 10%.
Doug McDonald