My grandmother Fannie Turner Graham's father was named Howard Turner. She did not have a photograph of him but said he looked like her grandfather, Dock Allen and my grandfather, Mershell Graham. When my grandmother was four, her father Howard was killed at a barbeque. Her parents, Howard and Jennie (Allen) Turner had been talking about selling their portion of the Turner land and moving to Montgomery. Howard and his father had an argument before the barbeque and my great grandmother, Jennie, believed that Howard's father had him killed so that he could not sell the land. Jennie took the deed to a lawyer and asked him to look over the deed because she wanted to sell the land. When she returned he told her the title wasn't clear and she didn't own the land. She figured her father-in-law had gotten it back. Jennie moved back to her parent's home in Montgomery with her children and went to work as a seamstress. You can read her story here. Years later, my grandmother met one of her cousins on the street and learned that her grandfather did not get the land after all and had not had her father killed. This is all the information I had.
When I began searching online all I knew about my Turners was that they lived in or near Hayneville, Alabama: that my great-grandfather owned his farm: that my great grandfather's name was Howard and that he was born about 1864. The 1880 census was available with an all name index through Family Search and I found Howard Turner, age 16, living with his family in Hayneville. He was a clerk in a store. It was a very emotional moment to find my great, great grandparents names. Joe and Emma Turner. The family included Lydia 18 born about 1862, Howard 16, born about 1864, Joe age 13 and 'at school", Annie 11 and Alonza 7. Joe senior and Emma were listed as 39. Below is the family sheet for Joe and Emma Turner.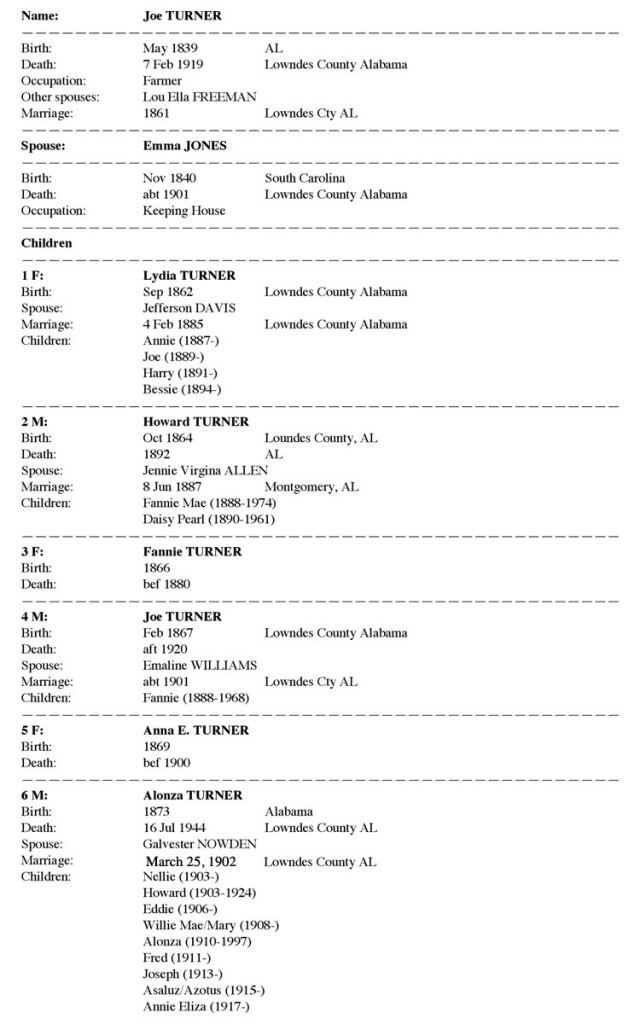 With this information I was able to find them on Ancestry in the 1870 census, which was indexed only by head of household at that time. They were enumerated In Hayneville Beat 1, Lowndes County. Emma was and her parents were born in SC. Joe was born in Alabama. Joe was a farmer with $300 worth of personal goods. Neither he nor his wife Emma could read or write. The children were Lydia, 8, Howard 7, Fannie 6, Joe 3 and Annie born in August of that year. Joe Turner is in the 1866 census with 5 in the family living in Lowndes County, AL. From son Joe's death record I learned that Emma's maiden name was Jones. Or so the informant said.
In 1900 Joe and Emma owned their farm. Two of their grandchildren, Anelyzor (Annie) and Joseph Davis were ennumerated with them. Emma had given birth to 11 children and only three were still alive. Those three were Joe, Alonza and Lydia parent of the above Annie and Joe. They had been married 39 years, which would place their marriage before slavery in 1861.
Emma died soon after the 1900 census. Joe remarried in 1902 to Luella Freeman, 40 years his junior. They went on to have 8 children – John, Anna, Daniel, Buck, Josephine, Talmudge, Luella, and Selena who was born after Joe died February 7, 1919 of "prostatic trouble and old age." Luella died in Chicago in July of 1977. I think, but I need to send for the death certificate to check.  Below is the family sheet for Joe and Luella Turner.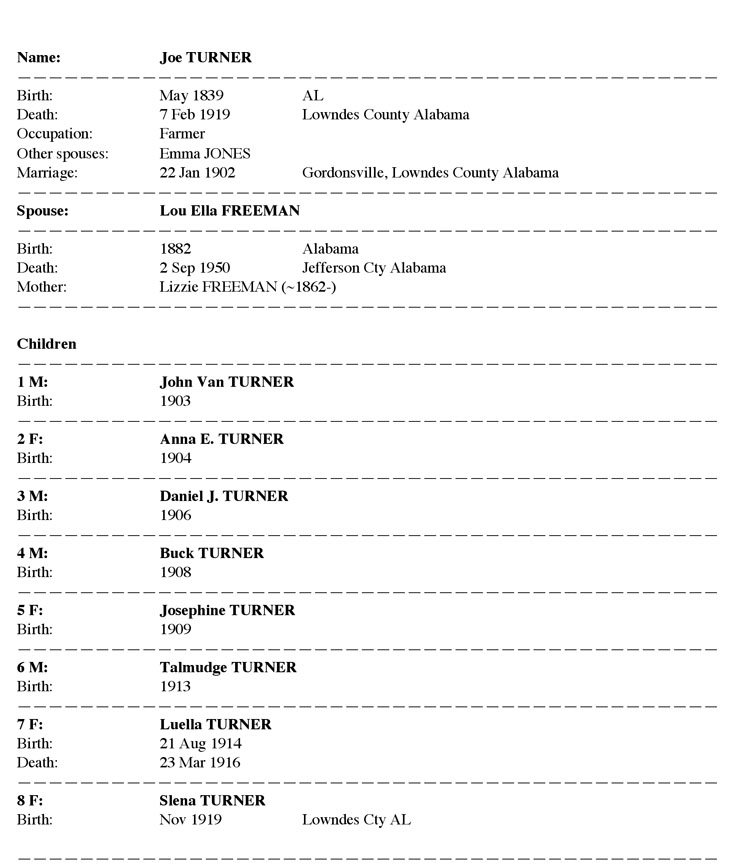 Now I need to find estate records, a will…. something that will give me names and places. I want to look at land records too. And newspapers from Lowndes County, Hayneville from 1892 when Howard died. This means a trip to an archive. Something I have never done. I need to check something else too, in Mildred Brewer Russell's book "Lowndes Court House" it says that Joe Turner was one of a number of "prominent Negro politicians" during reconstruction. I have yet to find anything else about this, such as what office he held. It would be great to meet some of Joe Turner's other descendents too – hopefully with some photos and able to tell me where Moss cemetery is since it seems to be no where but on their death certificates. I picture a lonely, deserted place in the woods with no markers. Just sunken areas.